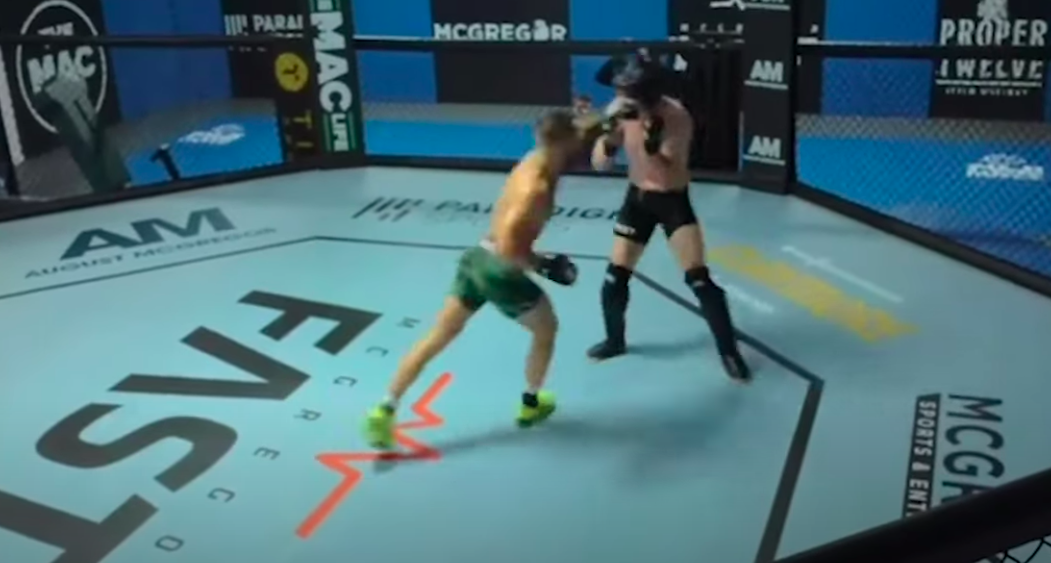 Conor McGregor once famously said that 'nobody can take that left hand shot'.
Well, it appears that remains true even its recipient is wearing headgear. The Dubliner has released a series of brief clips online in recent weeks detailing his ongoing training as he amps up towards what he vows will be the greatest comeback in sports history, and judging by the latest his left hand is possibly even more potent than before.
Check out the footage:
That same shot (or a variation of it at least) is responsible for multiple words title wins. His left ended Ivan Buchinger's night on New Year's Eve 2012 in which he claimed the Cage Warrior lightweight crown to add to the featherweight belt he won (via submission) against Dave Hill some months prior.
It went on to deliver significant success in the UFC, too. Diego Brandao fell to it, as did Dustin Poirier and Dennis Siver. A looping version of it collapsed Chad Mendes to the mat shortly before the end of the second round in his interim UFC featherweight title win in 2015, and again when he upgraded to the undisputed title against Jose Aldo the following December.
The greatest comeback in sports history https://t.co/MkNtxh3Llz

— Conor McGregor (@TheNotoriousMMA) October 4, 2022
"Nobody can take that left hand shot. He's powerful and he's fast but precision beats power and timing beats speed," he said following the 13-second win against Aldo.
"I feel for Jose, he's a phenomenal champion. We deserved to go a little bit longer but I still feel at the end of the day that precision beats power and timing beats speed… it would have happened sooner or later. These are four inch gloves, that's all it takes and especially when you add my left hand. No one can take my left hand shot."
That statement rings as true today as it ever did.
Comments
comments