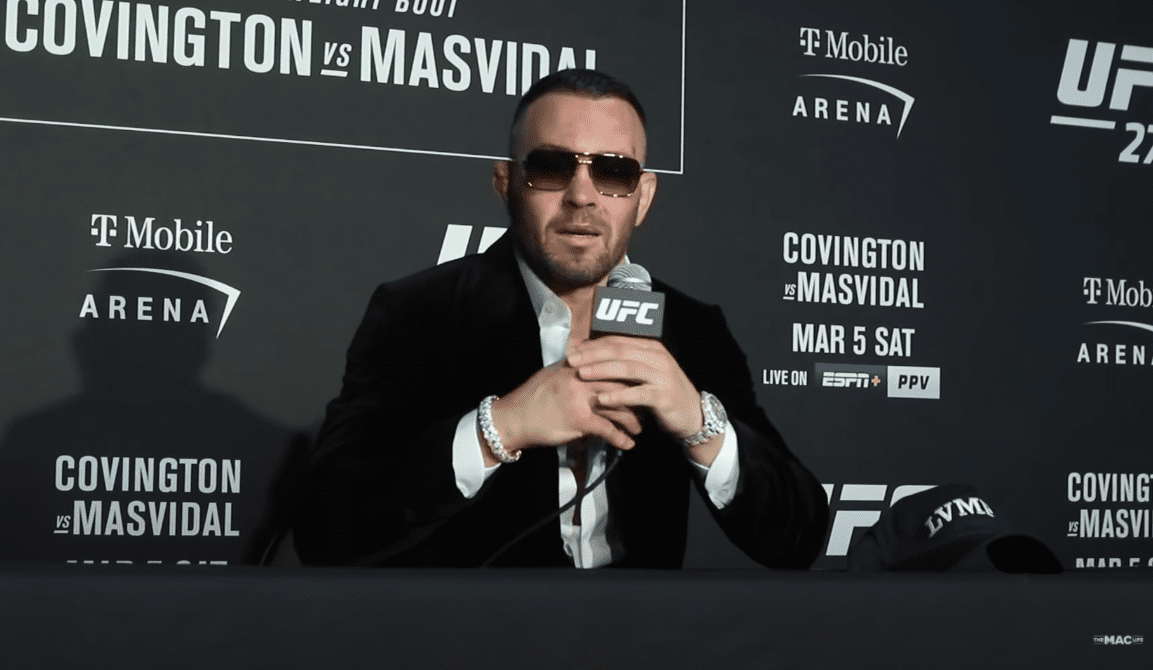 After years of jawing and animosity, it was Chaos who reigned supreme in Las Vegas on Saturday night.
Colby Covington brought a degree of closure to his years-long feud with former friend and training partner Jorge Masvidal in the UFC 272. headliner, dominating the majority of the 25-minute fight with a mix of walk-forward aggression, winging punches and takedown attempts against the cage  to which Masvidal, save for a few good shots — especially in the fourth — had little answer.
The win sets Covington up to cement his position at the top of the welterweight rankings and the possibility of a third crack at champion Kamaru Usman, who remains the only fighter to have defeated Covington in the last seven years
But even after a win that Covington has likely craved since ructions first emerged on the mats of American Top Team in Coconut Creek, Florida, Covington admitted to the media (including The Mac Life) after the fight that he wasn't overly-thrilled with his own performance, even if the win was a satisfying one.
"Just a lot of emotions going into it," Covington said when summing up his thoughts. "That was a real friend of mine at one point in my career, and he's such a backstabbing thief, and he talks so reckless. He tried to make some false narratives to the media and lies like he does — he's a liar. He's a thief. So I let the emotions get the best of me, but it was still dominant.
"I just showed how good I was, that I am the number one fighter in the world for a reason, and it wasn't even competitive tonight."
It was unlikely that the warring rivals would offer up a conciliatory handshake in the aftermath of the fight, particularly given the narrative going into it — but Covington said that Masvidal and his team continued to offer threats, even after the fight.
But Covington says that his work in the cage spoke for itself.
"He was still running his mouth," Covington said. "It's like, dude, you just got pounded out. You got dropped, wobbled. Just a complete domination from second one to minute 25. You could see in his body language, he literally didn't have another one minute to go, so just imagine if there wasn't a ref there tonight. His life would have been over.
"So, that's the end of 'Street Judas.' I don't want to hear any more talk of Street Judas, the hype machine that hit lightning in a bottle for a couple fights. He's done. I don't want to hear another word about it."
Comments
comments