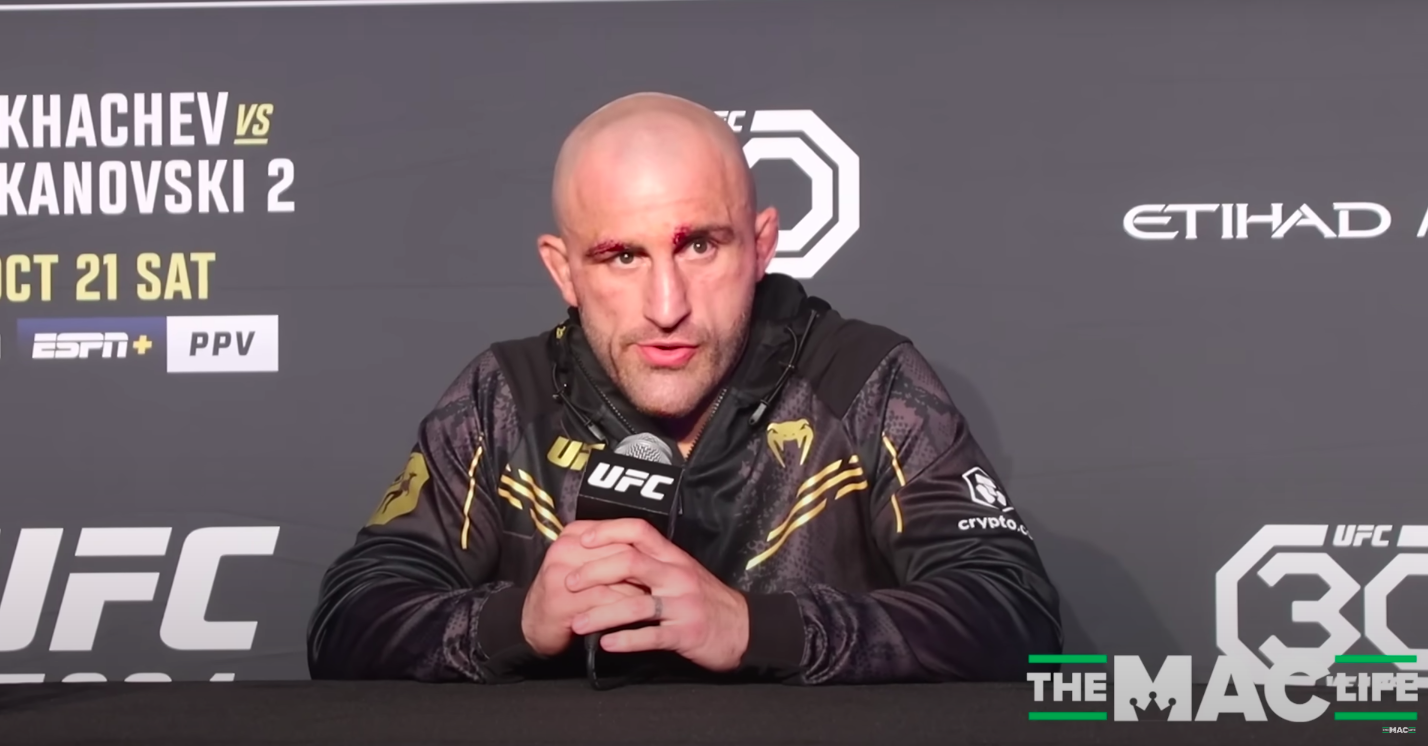 It didn't go Alex Volkanovski's way on Saturday night in Abu Dhabi. 
The UFC featherweight champion fell short in his second bid this year to seize the UFC lightweight title from Islam Makhachev, losing by first-round TKO in a fight in which he took on less than two weeks' notice. Speaking to the media, including The Mac Life, afterwards, a disappointed Volkanovski explained that, while he will always back himself in these types of scenarios, something didn't feel quite right in the cage a couple of days ago.
"I felt strong in there, but obviously I've been telling you I want to put some hands on him and whatnot. I wanted to pull the trigger, but it just felt a little weird in there, that little bit hesitant, which I didn't expect," Volkanovski said. "It was like I was waiting for something. I was like, 'I'm going to go, I'm going to go,' and then he got me."
The finish was just Volkanovski's second loss in his UFC career (both to Makhachev) and his third overall, and likely sidelines for the time being any ambitions of adding a 155-pound championship to the featherweight title he already holds.
The Australian added that the opportunity to compete was too good to turn down, even if it came with a less-than-ideal amount of preparation time. And more than that, Volkanovski says that he needs to make the most of his prime in the sport and that he struggles when forced to sit on the sidelines.
"A lot of people will say it's for the money and all that, but it was much more than that," he explained. "It is hard for athletes — I never thought I'd struggle with it, but for some reason when I wasn't fighting or in camp, I was just doing my head in. I needed a fight and this opportunity came up. I'll be honest, I wasn't training as much as I should have, but I thought I had to do it. I had to take it. I'm telling myself, 'It's meant to be.'
"I was struggling a little bit not fighting, doing my head in. I don't know how. Everything's fine, I've got a beautiful family. But I don't know. I think you just need to keep busy. So that's why I just ask the UFC to keep me busy, I need to be keeping busy, I need to be in camp; otherwise, I'm going to do my head in."
Comments
comments