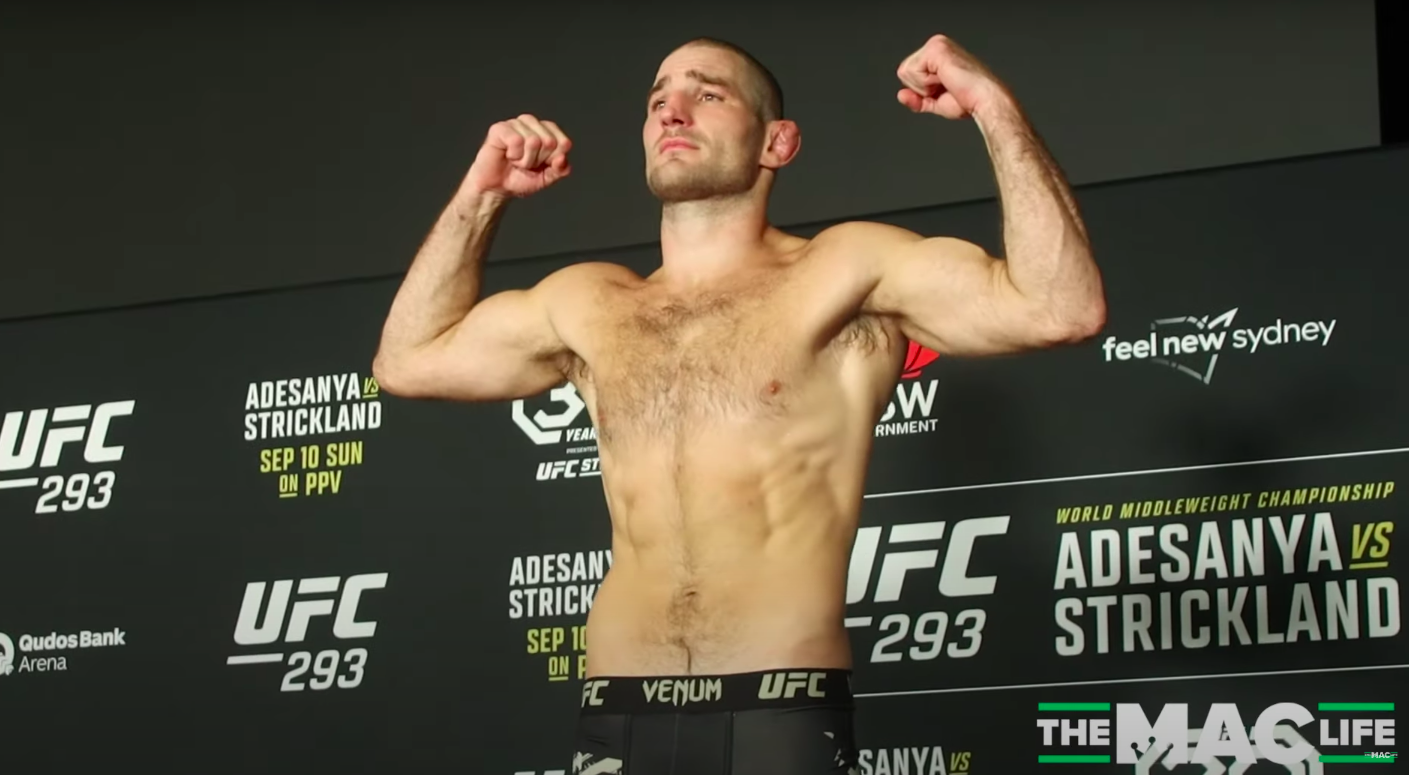 Sean Strickland likely has his first UFC middleweight title defence lined up — but he isn't too happy about it.
On Saturday night in Abu Dhabi, Khamzat Chimaev won what was billed as a title eliminator fight against Kamaru Usman, winning a close decision against the former welterweight champion who had taken the fight on less than two weeks' notice. The win, according to Dana White's pre-fight rhetoric at least, will make him the second fighter to leapfrog over Dricus du Plessis into title contention (after Strickland himself) ahead of a fight in the coming months.
But as far as the champion is concerned, Chimaev hasn't earned his spot at 185-pounds just yet.
"The only thing I like about Chimaev is that he sells fights," Strickland said of Chimaev to the UFC's 'Extra Rounds' online show. "For some reason, people f*cking like him or don't like him. I don't know. To me, he's a f*cking paycheck. He sells a lot of fights. People pay to watch, but he f*cking hasn't earned it.
Well, it looks like @SStricklandMMA is ready for a matchup with Khamzat! #UFC294

Didn't hold back and we wouldn't expect him to. #ExtraRounds from the @PBR Teams Championship. pic.twitter.com/uuQPRVkOzD

— UFC FIGHT PASS (@UFCFightPass) October 22, 2023
"He doesn't f*cing deserve it, but here we are. Give it to him. He sells a lot of fights. I'll go fight the f*cing man for five rounds. But no, he's not earned it. He doesn't f*cking deserve it. Getting a decision with a welterweight off the couch is not f*cing earning it."
The comments from Strickland are interesting, particularly given that both men have trained together at Xtreme Couture in Las Vegas — with Chimaev subsequently saying that Strickland "deserves" the 185-pound world title.
"Strickland, coming for him," Chimaev said last month. "If you stay there, man, coming for you too. He works hard, deserves it, the guy is always in the gym, now he got the belt. He has a good team, good coach, I have been there, training with that guy.
"They deserve that belt. He has been active, fights with everybody. I don't know why [the UFC] is waiting. Give that chance to me. They are hiding that belt from me. Anyway, like I said, when I smash everybody, they have to give that belt to me."
Comments
comments