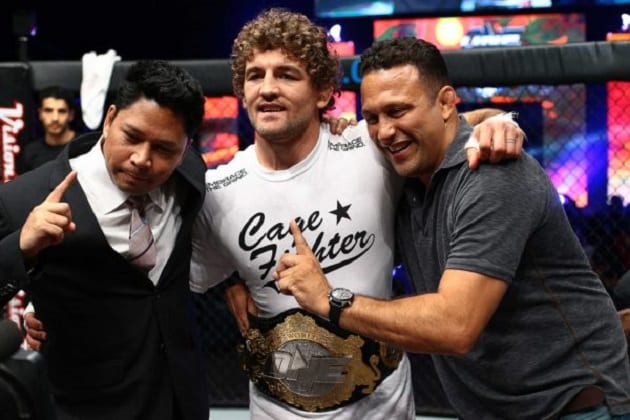 Ben Askren certainly hasn't come to the UFC to make friends.
The newly-signed, undefeated welterweight is scheduled to make his UFC debut in early March against Robbie Lawler but doesn't just have the former 170-pound champion in his crosshairs at the moment, it seems as though just about everyone on the UFC's welterweight roster is in the firing line.
Darren Till and Colby Covington have been the recipients of vocal barbs from Askren in recent weeks but perhaps none was more interesting than what happened backstage at the UFC 235 presser where upcoming title challenger Kamaru Usman seemed intent on engaging in a physical altercation with Askren.
"Can you believe Marty put this video out?" Askren said to Ariel Helwani on ESPN on Monday. "This video makes him look like a dumb-dumb and it was his camera person that put it out! He is bragging about this and this is what I can't stand about fighters. Listen, we get that you're tough. You fight in a cage. I understand that perfectly, but he has to come up to me, [when] you know nothing is going to happen back there, Marty! Why are you getting in my face? You know you're not gonna risk your main event shot by punching me in the back hallway.
"Give me a freaking break. I couldn't fathom why he was trying to act so tough and what he was trying to do or get out of the situation. If it was intimidation, that's freakin' laughable. . . Look at his skinny jeans! You can't be acting tough when you're in white skinny jeans and a scarf."
Usman will challenge Askren's close friend Tyron Woodley for the UFC welterweight title at UFC 235 — the same event on which Askren makes his debut — and Askren maintains that Usman's hostility was for the cameras alone as he wouldn't jeopardise his title shot, particularly right in front of Dana White.
"He wasn't gonna do nothing because that's not who he is," Askren said. "He wants to act like he's this crazy, insane tough guy but I knew him from before and he's not. He's smart, he's reasonable and for whatever reason this is the persona that he wants to play, that's he's this tough, crazy guy who will fight anyone at anytime. It's just silly and ridiculous. At no point was he ever threatening me.
"Listen, I offered to fight you. I don't know how else you want to settle this. I thought that was a fair way to settle it. So I thought it was just all around ridiculous.
"I am under your skin so bad that I say one thing – I said, 'Am I sitting next to Marty?' and he got all pissed," Askren said. "And the funny thing is, he's not even like, 'Marty's not my name, don't call me Marty.' . . He's not even denying that Marty is his name so I don't even know what he's mad about! What is he mad about? I'm so far under his skin and so far in his head it's not even funny."
Comments
comments