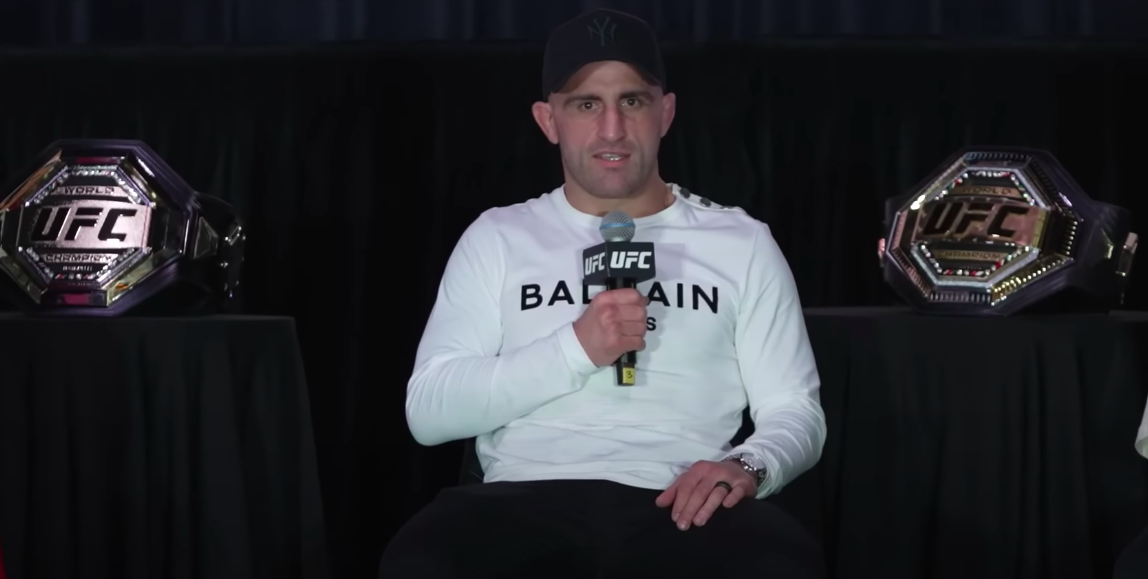 They say that the third time is a charm but Alexander Volkanovski says that Max Holloway's third bid at seizing the UFC featherweight title from him will go the same way as the first two.
The Aussie 145-pound champion has run roughshod through the UFC featherweight fold since he made his debut for the organisation in late 2016. Included in that run is two victories against Holloway, a fighter who is himself considered one of the finest featherweights in history.
The last time the two met in the cage, Volkanovski triumphed by narrow split decision — but he says when they meet once more in the co-main event at UFC 276 in a couple of weeks' time, there will be no doubt whatsoever as to who the world's best featherweight is.
"I'm gonna go out there and I plan on putting a beating on him this time," Volkanovski said at a UFC press event in Sydney. "
"I really do want to make a statement. Obviously, getting a finish will really, you know, get that dominant win. It will definitely help that legacy that I want, as well. This opportunity is here and I'm gonna take it. It's gonna be 'and still' and I'm gonna put on a good performance. That's all that's gonna happen."
Holloway has put in some fine performances since losing to Volkanovski last time around, notably his five-round shellacking of featherweight contender Calvin Kattar but as far as Volkanovski is concerned this isn't a fight designed to 'shut up' those who might think that Holloway is the uncrowned champion. This is about legacy.
"I don't care about that now," he explained. "That's not why I took this fight. It wasn't just to shut them guys up. I did originally want this trilogy to shut people up, but right now, it's not about that. This fight is gonna be a legacy fight for me, and there's gonna be haters no matter what you do. Even after this one, if I go out there and do what I plan on doing, there are still gonna be haters.
"There are still gonna be people saying stuff. We can't worry about that. I have used it all as fuel to get me where I am, but right now it's about me and putting myself in a good position after this one.
"I plan on going out there and really putting work on him. Again, he's a great fighter. I'll give him a lot of credit, he's that number one contender, he's done great things in this division – the reason he's even getting a trilogy. I think really taking him out again will really put my name out there and raise that bar a lot more for me, put me in a lot better position.
"So, that's why I'm taking this fight, not to shut people up. It will taste good to shut people up at the same time, but that's not my main drive right now. But we're here. We're going to silence them. But if they want to keep yapping, let them."
Comments
comments