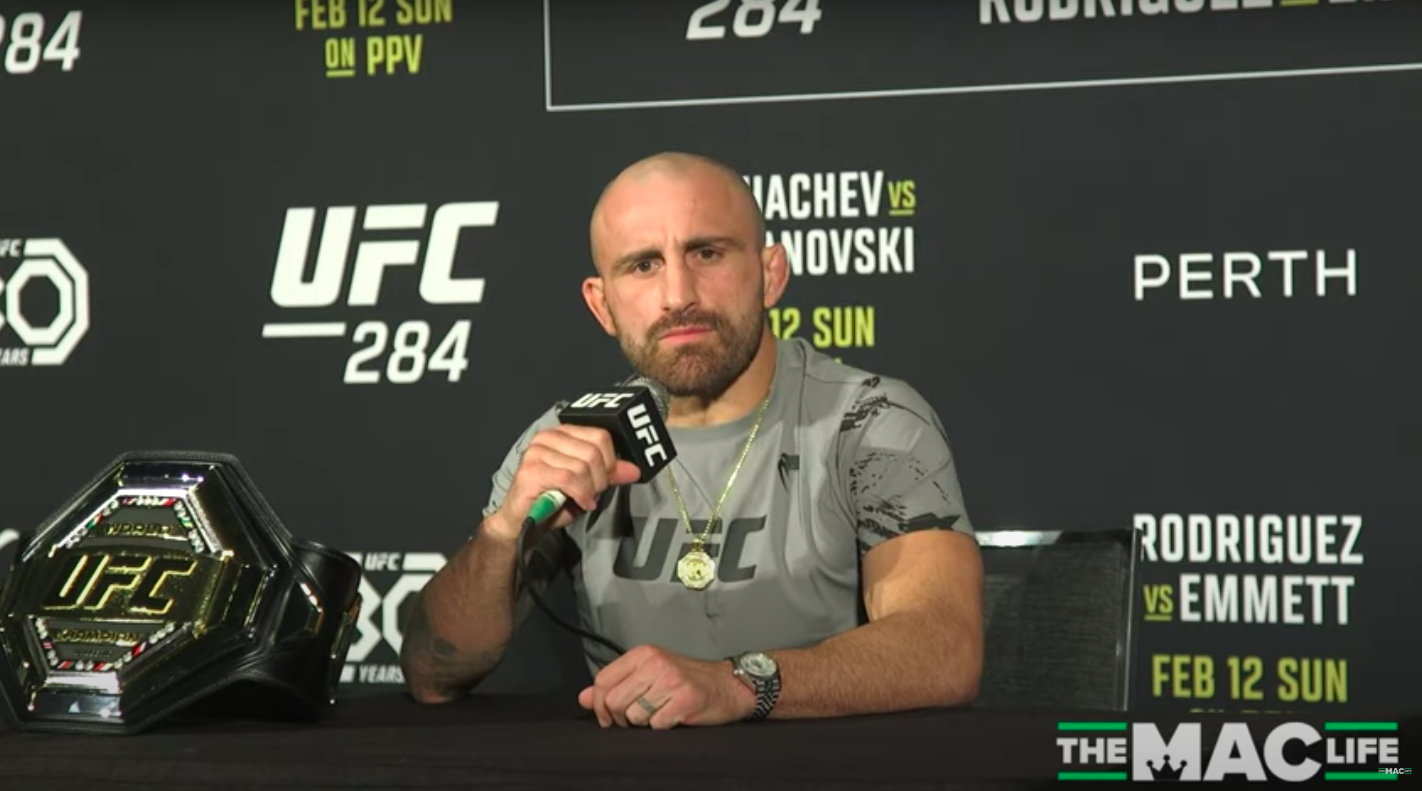 Alexander Volkanovski could become the second man in UFC history to hold both the featherweight and lightweight titles simultaneously, and he says the first man to do so could well be in line for a title shot before 2023 is out.
The Australian 145-pound champion will look to add a second belt to his collection this weekend in Perth when he challenges Islam Makhachev for the lightweight world title — but despite having his hands full with his own bid at history in front of what will be a fiercely partisan Aussie crowd, he can't help but look to the future and a potential bout with Conor McGregor.
McGregor was announced this week as being a coach on the forthcoming season of 'The Ultimate Fighter' opposite Michael Chandler, with the two set to meet in the cage later this year — and Volkanovski says that a McGregor win could push him right to the top of the line when it comes to identifying lightweight contenders.
"Obviously, it's always good to have Conor coming back to the sport," Volkanovski said to the media in Perth, including The Mac Life.
"He's brings a lot of eyes. That will be a fun fight as well. I think it's clever for both of them. Clever for Conor because he can go and fight, they're both powerful dudes obviously, it's a winnable fight because they're just going to go for it. It's going to be entertaining.
"That just puts Conor right back in the conversation for the belt and all that type of stuff. For people to say he wouldn't deserve it and there's no way he's going to do that, you're pretty crazy, right? It's Conor McGregor, and if he takes out someone like Chandler, you know his name is going to be mentioned. You know people are going to be talking about him."
There has been speculation that the McGregor vs. Chandler bout may take place at 170-pounds, though the specific details of the fight have yet to be confirmed, but Volkanovski says that that wouldn't rule a fighter of McGregor's stature out of competing for the lightweight world title.
"At the end of the day, it is Conor McGregor," Volkanovski explained. "When you pull in those types of numbers — and you've got to remember, he is always taking on the good guys as well, the good fighters, so he's always stepping up and taking on dangerous fighters.
"It's at 170, it's not the lightweight division. If it was anyone else, I'd say there's no way, right? It's pretty obvious how it goes down. I'm not really saying anything that anyone should be surprised about."
Comments
comments