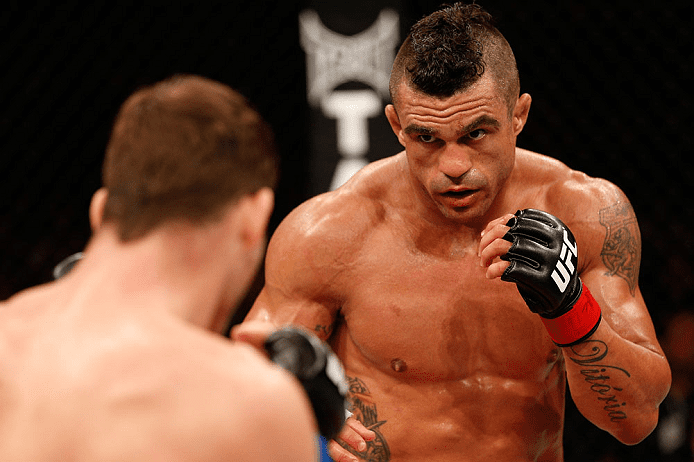 Could we see Vitor Belfort under the Bellator banner in the future?
The MMA legend appears to be coming to the end of his UFC career, citing on record his next fight (against Nate Marquardt) as the last appearances he'll be making for the promotion.
But, while it had initially seemed as if the contest would be Belfort's last time wrapping up the gloves, 'The Phenom' appears to have had a change of heart, and has lately stated he would look into the option of fighting somewhere else.
While there has been no indication as to where exactly that might be, his manager Gustavo Lacerda appears to have an idea in mind.
"What I think it's possible to imagine is: what does the MMA fan wants?" Lacerda said, speaking with the MMA Ganhador podcast (translated by MMAFighting). "He wants to see Vitor vs. Wanderlei [Silva], wants to see Vitor vs. [Chael] Sonnen. He wants these type of fights. And it's the type of fights that interests us. Vitor doesn't need to prove anything regarding to ranking or title. The idea is to have fights that are interesting. Interest the fans, and interest the fighter.
"I'm particularly crazy to see Vitor vs. Wanderlei. It's a fight I pay to see. There are fights people want to see, and those are the fights that are interesting. Where it will be, and how it will be, I can't say anything right now. But they might happen."
Comments
comments