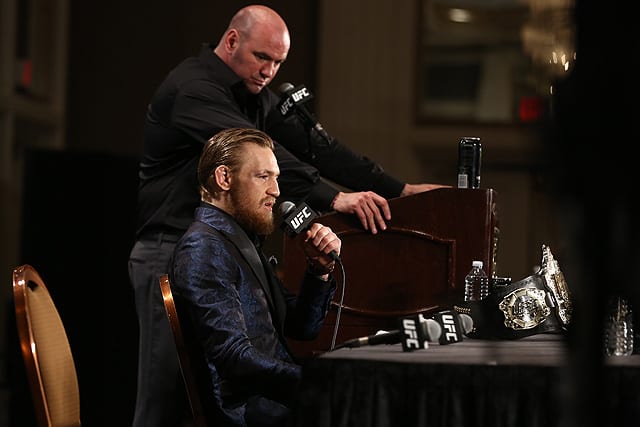 Conor McGregor has long made no bones about the fact he considers his own activity to be the gold standard in mixed martial arts.
Prior to this year where a potential fight with Floyd Mayweather has required a moment of patience, McGregor has been making consistent appearances for the UFC over the last few years, even in spite of multiple last minute change of opponents.
That's probably why the UFC lightweight champion was appalled at UFC 209, where Tony Ferguson turned down a fight against Michael Johnson once his booked opponent Khabib Nurmagomedov failed to weigh in, causing their fight to be scrapped.
According to UFC president Dana White, who was speaking with Snoop Dogg on the rapper's YouTube show GGN News, the UFC lightweight champion sent him an irritated text message when he heard the news that Ferguson wasn't going to fight, despite being ready to compete.
"You know this shit that went on with Tony Ferguson and Khabib right?," White said. "You know what [McGregor] said to me? He text me and he says, 'I can't believe you're going to pay that bum Tony Ferguson one dollar.'
"He goes, 'He was there, made weight, and you lined up a fight for him with Michael Johnson and he turned it down? Fucking bum. You shouldn't pay him a dime.' — That's Conor's mentality. That's one of the many things that I love about Conor McGregor. And it's not just talk either."
As noted, McGregor has had to deal with opponent changes more than once during his career, often with the stakes at their highest. Ahead of his first UFC title fight against Jose Aldo at UFC 189, the Brazilian pulled out with less than two weeks to go, causing Chad Mendes to be inserted in.
As the story goes, when Coach John Kavanagh informed a sleeping McGregor of the change, the Irishman opened one eye, replied 'they're all the same', and rolled over to go back to sleep.
Comments
comments