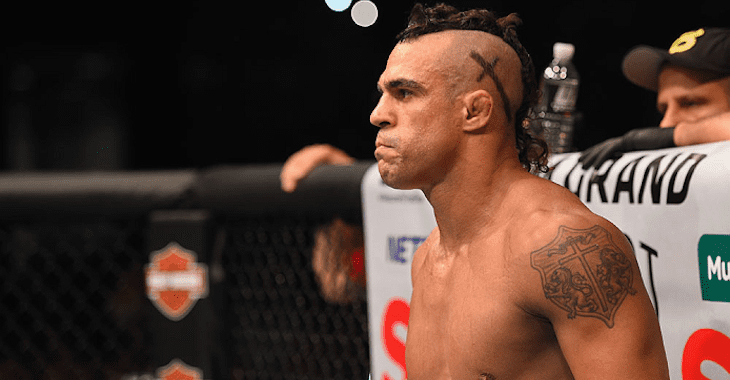 With Vitor Belfort just a few weeks removed from his 40th birthday, the UFC middleweight has been the subject of retirement rumours for a while now.
The former UFC light heavyweight champion faces Kelvin Gastelum, a fighter 15 years his junior, at UFC Fight Night 106 in Fortaleza, Brazil, this weekend and a defeat to the surging contender would surely serve to expedite Belfort's decision to step away from the game. If he does step away from top level competition, Belfort doesn't see this being the final phase of his fighting career and has begun petitioning the UFC to create a new 'Legends League' for fighters like Belfort and others of his vintage.
"I have even one idea I want to present for the UFC: It's creating a new league inside the UFC," Belfort said to MMA Junkie. "We need something new – I can see now. These new owners, they want to create something new. There is a lot of changing. What I want to propose to them is creating a league inside the UFC, the Legend League, so we can bring back these retired people – bring them back to the game and sell more tickets – give more opportunities so they can make more revenue."
Critics will inevitably draw comparisons to Bellator's use of fighters like Ken Shamrock, Royce Gracie and Kimbo Slice to headline events and the negative publicity some of these fights generated as being evidence that the UFC is not a suitable platform for athletes with diminishing skills.
However, Belfort says that his proposal would involve an augmented rule-set to accommodate older fighters so as to even the playing field. Longer rest periods, larger gloves and knee strikes would be outlawed, Belfort says, in a move away from the unified sports which largely govern the sport of mixed martial arts.
"I have brains; I still have some left. I want to be able to make the fans happy and give them what they need. Not just entertain them, but give them the pleasure to see legends. I think that's what they love to do. Why just retire them? Bring them back."
Comments
comments