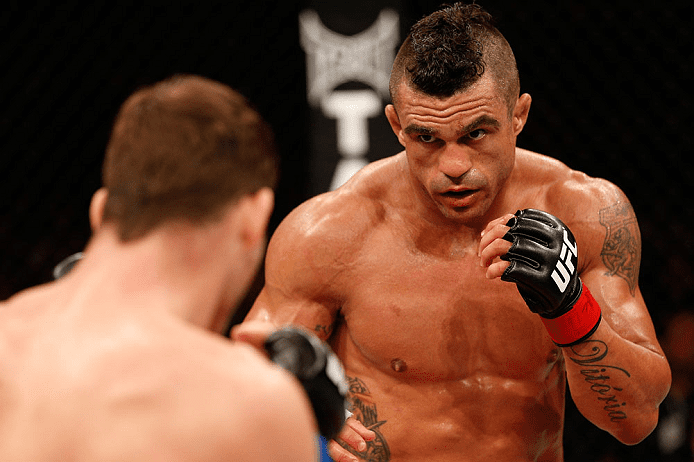 All going well, Vitor Belfort should be waking up today for the first time as a retired mixed martial artist but you know what they say about best laid plans.
The Brazilian was due to call a halt to his 22-year professional career at UFC St. Louis on Sunday night, but medical issues which affected his opponent Uriah Hall prior to the official weigh-in early Saturday caused the bout to be scrapped and Belfort has begun seeking a new foil for his final opponent.
UFC president Dana White confirmed that the organisation offered him two short notice opponents, understood to be Karl Roberson and Brad Tavares, both of whom were apparently rejected by Belfort. W"hite also stated that Belfort has been offered a spot on this weekend's UFC 220 card in Boston but that was turned down as Belfort's camp thought it ill-advised to embark on a second weight-cut so soon making weight for the ill-fated bout with Hall.
However, one final bout which does seem to interest Belfort is a rematch with former UFC middleweight champion Michael Bisping. Like Belfort, Bisping has announced that his next bout will be his last and the Brazilian is targeting a double-retirement fight with the Brit, apparently in London in March.
"I haven't seen or talked to Vitor yet," White said to the media following Sunday's event. "But we will get Vitor a fight. He wants to fight [Bisping] in London.
"That's the fight he wants. We'll see. I don't know. I've still got to get back and home and get in a room and figure it out. But I'm not opposed to it, no."
However, one central figure to the potential fight doesn't share this enthusiasm. Bisping and Belfort first met in 2013 and it was Belfort who emerged with the win, stopping Bisping in the second round. At the time, Belfort was using receiving testosterone replacement therapy, a practice now outlawed in the UFC. Prior to that, Belfort had been notified of several drug-test failures dating back to his days on the PRIDE roster — something which Bisping had little time for.
Speaking on his Believe You Me podcast in March of last year, Bisping let loose with his thoughts on Belfort.
"This is a sign of the p**sy that Vitor Belfort is," Bisping said. "This is the sign of a p**sy that takes f**king steroids his entire career. If you take steroids, you are a f**king p**sy because you're so mentally weak that you feel that you can't go out there and fight these people on a level playing field because you're gonna get your ass kicked. So you worry, and you look, and you look for shortcuts, and you look how you can cheat, and you think, 'Oh I'm gonna take these steroids and they're gonna build my muscle and make me recover better' and all this type of stuff."
So, with that in mind, it is probably not much of a surprise that Michael Bisping isn't too fond of the idea of his retirement bout being against Belfort. When contacted by Ariel Helwani, Bisping made clear his thoughts on the subject.
A report surfaced earlier today that Michael Bisping v Vitor Belfort is in the works for London in March. I asked @bisping if that was true. He said 100% not true. He also said, "I detest Vitor. Do not want to be associated with him in the slightest."

— Ariel Helwani (@arielhelwani) January 14, 2018
..
Comments
comments