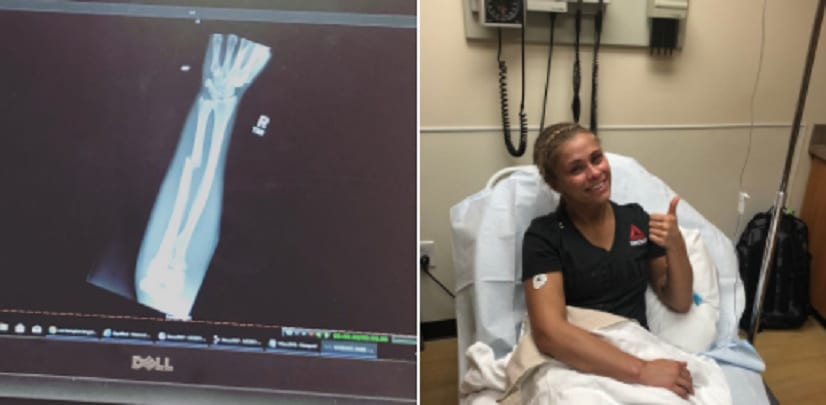 Say what you will about Paige VanZant, but her toughness cannot be questioned.
VanZant's debut at 125-pounds at Sunday's UFC event in St. Louis didn't go according to plan as she dropped her flyweight debut via unanimous decision to Jessica Rose-Clark in the rearranged co-main event of the evening. The 23-year-old VanZant has now lost two straight bouts since her spectacular August 2016 switch-kick KO win against Bec Rawlings in the summer of 2016.
What's worse for VanZant is that it has been confirmed that she suffered a broken arm during the bout against Rose-Clark. VanZant complained of pain in her arm  to her corner following the first round, an injury apparently exacerbated by a spinning backfist she threw early in the second.
And that's the shot that broke my arm lol @missjessyjess you got a hard head girl!! Congrats tonight. Tough as nails https://t.co/khKxLO1ugB

— Paige VanZant (@PaigeVanzantUFC) January 15, 2018
"I broke my right arm in the first round." — @PaigeVanZant​UFC

PVZ fought two more rounds after this. How tough is she??? #UFCSTL pic.twitter.com/17E4etSABM

— FOX Sports: UFC (@UFCONFOX) January 15, 2018
Well… I broke my arm in the first! I was able to finish the fight but as you can see, had a hard recovering and throwing my right. I'll be back better and stronger than ever! 💪🏼🦁 it's all apart of the fight game. God had other plans for me. 🙏🏼 darn spinning back fist. pic.twitter.com/v5DhSv5YxD

— Paige VanZant (@PaigeVanzantUFC) January 15, 2018
VanZant was taken to hospital immediately after the bout where an X-ray confirmed that one of the bones in her right forearm had experienced a clean break. An injury of this type can take around 3 to 6 months to heal initially, but it almost always recommended to take longer to ensure that the bone is adequately strengthened to avoid re-injury.
Comments
comments