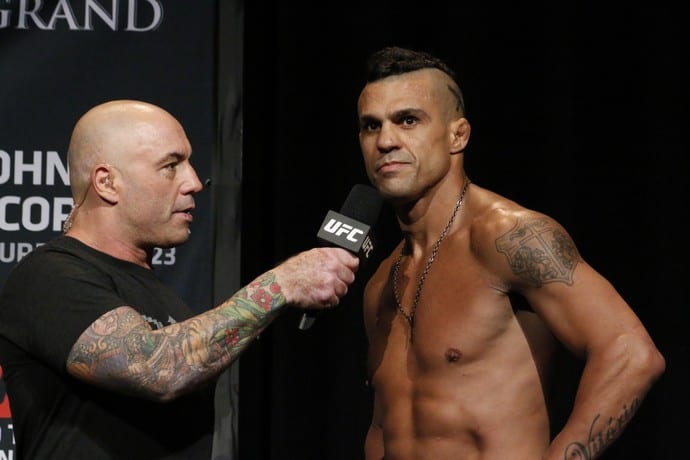 Joe Rogan has consistently had one of the best seats in the house throughout his fight-calling duties with the UFC but he could be set for an upgrade on that if he accepts a formal invitation from Vitor Belfort to be his cornerman ahead of first fight for ONE Championship.
As Belfort points out in an Instagram post, both he and Rogan made their UFC debuts on the same night all the way back at UFC 12 in February 1997. Rogan, who was a star of the hit sitcom NewsRadio at the time, was employed as a backstage interviewer while Belfort fought and beat giant heavyweight Tra Telligman on the same card.
And if Belfort gets his wish, it looks like they might cross paths once again.
"Joe Rogan and I made our UFC debuts on the same night. I became the youngest fighter to ever win a UFC and Joe embarked on his incredible career as the voice of the UFC. ," Belfort wrote on Instagram, accompanied by a video of Rogan praising ONE Championship on an edition of The Joe Rogan Experience podcast.
"We also share the same respect for ONE Championship. @yodchatri and his team @onechampionship are changing the game for fighters and fans. @joerogan, I would like to formally invite you to be my cornerman in my first ONE Championship fight. I admire your dedication to the sport, and I would love to have that knowledge, and that voice, in my corner."
Rogan's input would be interesting, to say the least. As evidenced by his encyclopaedic knowledge of the fight game and his own background in high level jiu jitsu and kickboxing, Rogan is an astute mind in mixed martial arts but it remains to be seen if he'd actually consider travelling to Asia to do so.
Belfort, who signed with ONE in March of this year, doesn't yet have a fight booked.
Over to you, Joe.
Comments
comments