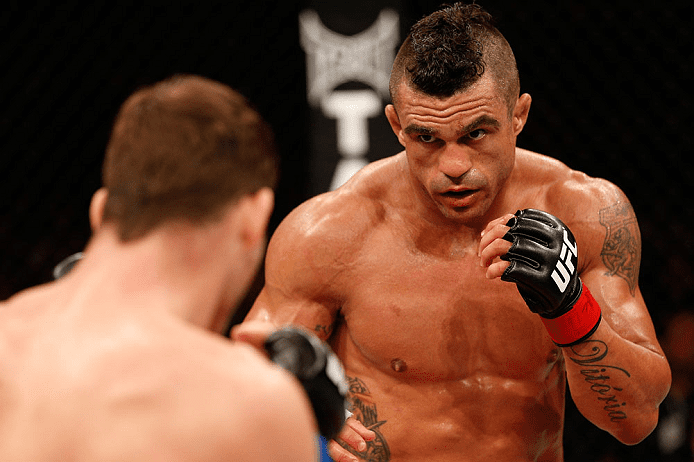 Vitor Belfort, now 41, has fought his last bout in the UFC in a career which began as a teenager and while it didn't quite go his way, a knee injury which plagued him in the lead-up to the fight plagued his preparation.
As per MMA Fighting's Guilherme Cruz and Combate, Belfort suffered an injury to his left knee during the first week of his training camp which troubled him throughout his training to take on compatriot Lyoto Machida.
Belfort was knocked out in the second round via a stunning front kick reminiscent of his finish of UFC Hall of Famer Randy Couture seven years ago.
Following the fight Belfort removed his gloves and placed them in the center of the cage, signalling the end of his two-decade run in mixed martial arts.
Reports state that Belfort was advised by medical personnel to withdraw from the fight but he instead decided to compete.
Despite announcing in advance that this was to be his final fight, the Brazilian former UFC light heavyweight champion left the door ajar for a big-money fight with Fedor Emelianenko in Russia, whom Belfort said he was close to facing in the now defunct Affliction promotion.
"Fedor is a legend as well," Belfort said via Combate. "It would've been so cool to fight him, it was a personal challenge. He was in his prime, he had never lost before. People told me I was crazy, but I told them to be cool, I was known for being a crazy dude since I was little. There's lots of money in Russia now, there won't be a lack of money to pay for this fight."
It remains to be seen if Belfort's knockout defeat — the eighth such defeat of his career — has changed his mind or if indeed he will opt to stay away from fighting for good.
Comments
comments