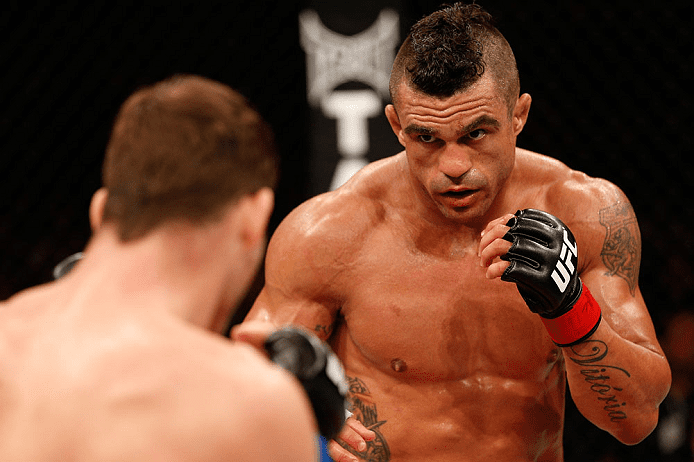 Vitor Belfort does want to meet Michael Bisping at UFC London in a rematch. In fact, he'd really appreciate it if Bisping accepted the challenge.
Belfort was originally meant to meet Uriah Hall at past Sunday's UFC St. Louis, only for Hall to be hospitalised after suffering through a bad weight cut. After turning down two opponents, one for St. Louis and one for the upcoming UFC Boston, Belfort informed the UFC that he wanted to meet Bisping in a rematch at UFC London in March.
It's an interesting proposition. Bisping has long had issues with Belfort, who physically altered Bisping's face permanently after knocking him out with a brutal kick during their first fight. After that, Belfort's name was regularly tied to banned substances and increased testosterone — a topic Bisping regularly spoke out about.
Combine that potential ill feeling with the fact that both men have made it clear that they consider their next contest to be their last, and the duo could make sense being put on together. Today on social media, Bisping doubled down on the challenge, calling on Bisping to stop "finding excuses" and meet Belfort in Bisping's home country.
–
Comments
comments