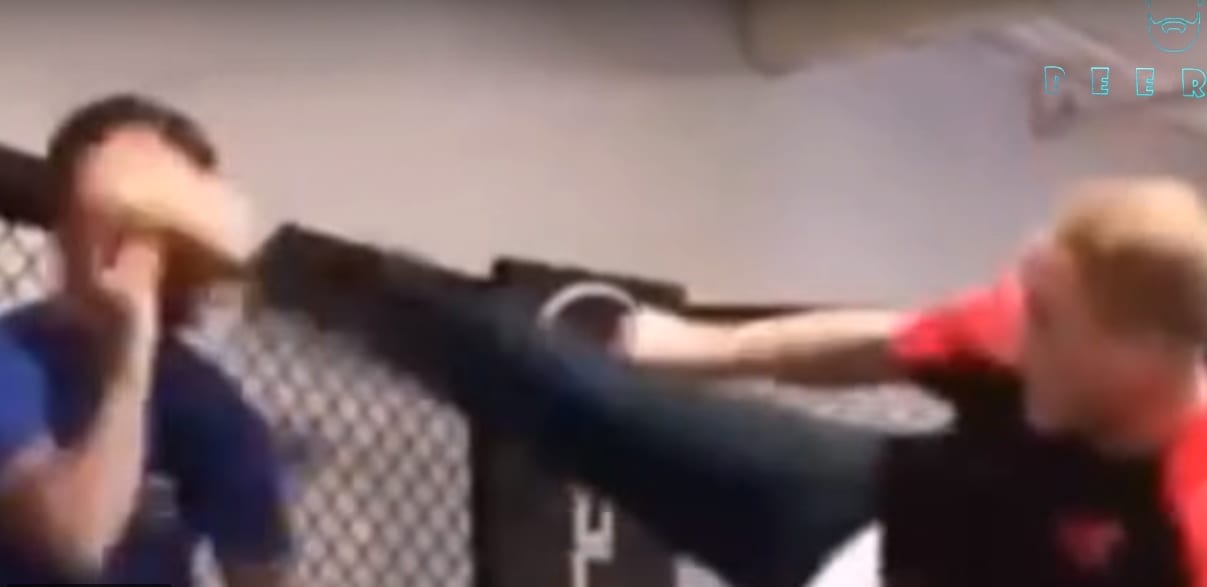 Most know Jean Claude Van Damme as a star of the silver screen but the 'Muscles from Brussels' is also a legitimate martial artist. Van Damme, a 2nd Dan Black Belt in Shokotan karate, compiled an 18-1 record in professional kickboxing matches in his earlier years (on top of a 44-4 ledger in the amateurs) and while we'll never know how he might have fared in the octagon had that opportunity come his way, the below video is perhaps the next best thing.
Recently, on an episode of Real Quick with Mike Swick (as reported by FloCombat), former UFC bantamweight champion Cody Garbrandt outlined a story of when Van Damme visited the Team Alpha Male gym in advance of Garbrandt's UFC 217 title bout with TJ Dillashaw.
During the impromptu light sparring session Van Damme throws a hook kick which connects with Garbrandt's chin. While the blow obviously had minimal impact on the former champ, Garbrandt was still apparently very non-plussed at Van Damme's apparent carelessness.
"Finally he was like, 'I want to show you this kick,'" Garbrandt explained. "It was kind of a variation on the teep and you twist it at the end. So I do it like three or four times on him. I put it down and then got in this fight stance and I saw in his eyes like, 'You wanna go?' And I was back against the cage. So he started playing with me, acting like he was going to throw some kicks, and he started throwing hands like slapping at me.
You can see the footage below and the moment in which Cody Garbrandt shows his displeasure with his new sparring partner.
"I was like, 'What the hell?'" Garbrandt continued. "Then he f*cking kicked me with that hook kick right in the teeth and I was like, 'Motherf*cker'. I was pissed. I was so mad. I looked over at Rob, then I looked over at Jean and I was like, 'Rob, keep this motherf*cker away from me.' He kicked me in my teeth, dude. He kicked me in my teeth just playing around. Like how many times have we punched at each other and we can pull our punches?
"This dude just straight kicked me in my teeth. I'm not going to lie, he has some fast ass kicks, but I was demonstrating the kick he showed me to get it right. Then I put my foot down and he kicked me right in the teeth. I went black.
"I was like, 'I'm going to rip his head off, but it's Jean-Claude. What are you supposed to do?'"
Comments
comments