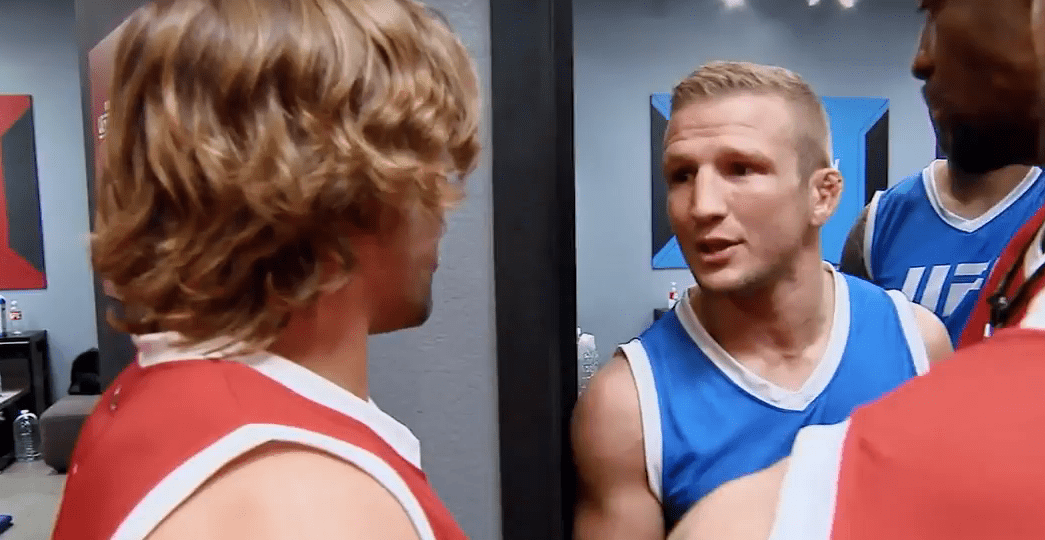 The Team Alpha Male and T.J. Dillashaw rivalry has plenty of legs on it.
On the latest episode of the Ultimate Fighter: Redemption, there were even more arguments, although this time the raised voices came in the form of not Garbrandt and Dillashaw, but Team Alpha Male coach Urijah Faber and Dillashaw instead.
The two came face-to-face to offer their opposing view points on how it came to be that Dillashaw left the Sacramento camp.
Amazingly, they disagreed.
"Just because I was getting sponsored by Musclepharm didn't mean I was going to move my entire life to Denver," Dillashaw said Tuesday, on the UFC Unfiltered Podcast. "That's a bold face lie and he knows it. … I told him 'look man, my next camp I'm going to do my full camp in Denver' and that's when he kinda flipped the lid. I think it was a way of him trying to create drama to try and get a title fight, and I had the belt at the time. Really he's just being a bold faced liar because I took him to lunch and told him about it. He's the one who gave me the ultimatum.
"I left the gym in tears, man. When he gave me the ultimatum I was coming in to watch practises because I wasn't allowed to practise — he said I wasn't allowed to do that anymore either — he full on just kicked me out of the gym. He can say whatever he wants, he knows what the truth is, I know what the truth is. All the guys saw me leaving. It wasn't something that I wanted, I didn't choose this.
"It makes me sad, man. I had friends I thought I was going to have for life."
Comments
comments