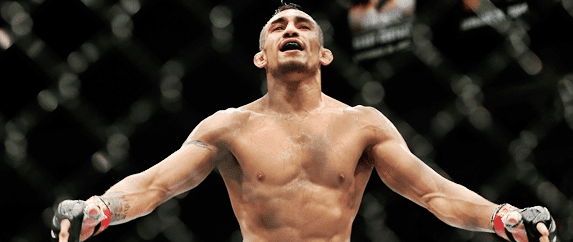 Tony Ferguson is the UFC interim lightweight champion.
At UFC 216, the man known as 'El Cucuy' defeated Kevin Lee in the third round via triangle choke. However, Lee may be able to point to fatigue as much as Ferguson's brilliant technique.
The two put on a show from the off. In the first round, they both staggered the other, and Lee looked to have the crisper boxing, before ending the round on top raining down vicious elbows.
But, halfway through the second, Lee looked to become visibly tired, and clearly started to slow down. In the third, Ferguson's forward pressure put Lee in a position where he was unable to cope, and as the two hit the ground, Ferguson managed to lock in his submission.
"Fucking amazing, fuck yeah," Ferguson said in his post-fight interview. "Absolutely not. this went the exact way I wanted it to be I wanted him to come at me, and use all that aggression. … I just knew I had to weather the storm, and he was going to keep using that energy."
And of course, the question on everyone's mind — would Ferguson call out Conor McGregor?
Yes. He would. Which of course means the question changes. How will Conor McGregor respond?
Ferguson and Lee take turns knocking each other down #UFC216 pic.twitter.com/OtWnsmm6JU

— Mike Dyce (@mikedyce) October 8, 2017
At long last, Tony Ferguson is your interim lightweight champion #UFC216 @TonyFergusonXT pic.twitter.com/neGyN1Awc1

— Mike Dyce (@mikedyce) October 8, 2017
Tony Ferguson has a message for Conor McGregor #UFC216 pic.twitter.com/f7B3HE14qc

— Mike Dyce (@mikedyce) October 8, 2017
WE HAVE AN INTERIM LIGHTWEIGHT CHAMP!!!@TonyFergusonXT #UFC216 pic.twitter.com/OoYrxHfSLc

— UFC (@ufc) October 8, 2017
—
Comments
comments