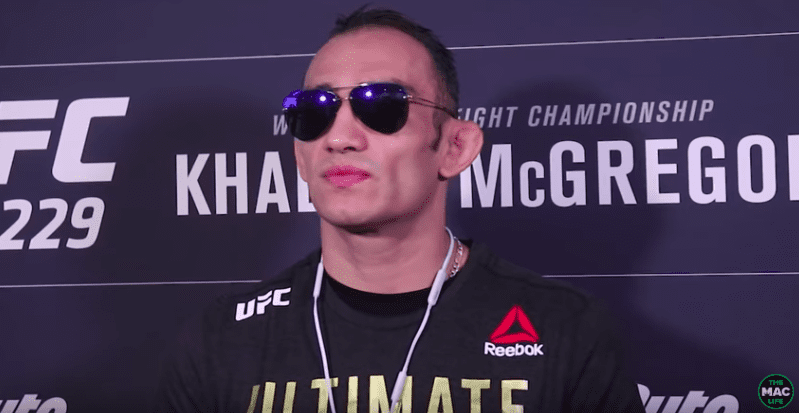 Tony Ferguson has never been the most conventional personality on the roster of the Ultimate Fighting Championship but a bizarre twenty-minute diatribe to the media in Las Vegas on Tuesday was bizarre even by his lofty standards. 
Ferguson faces Anthony Pettis in the co-main event of UFC 229 this weekend, just five months removed from knee surgery he sustained tripping over a wire at a UFC media event ahead of an ill-fated booking with Khabib Nurmagomedov.
As the assembled media, including The Mac Life, inquired as to Ferguson's health and well-being ahead of his comeback fight on Saturday, Ferguson instead criticised the press and made his feelings known regarding being stripped of the 155-pound interim title.
"It's been five months since my injury. Took a long fucking time for me to be here. They took my belt, they took a bunch of zeroes from my paycheck. How do you think I fucking feel? It's all fun and games, right?" Ferguson said.
"I'm the fucking champ. See this gold right here? I didn't lose my belt. They took it from me. The one thing they didn't take was my smile," he said with a pained expression.
"After my surgery I made a conscious decision to not want anybody else's help that wouldn't want to help me," Ferguson continued. "Yeah, I've got a little bit of a chip on my shoulder. It's still there. Fucking weighs a lot.
"But during this entire process, I gained so much more than you guys will ever imagine. So you guys can keep watching my social media films, you guys can keep thinking whatever the fuck you want, but ultimately the return, my family was there for me, my team was there for me, the people that really mattered.
"My doctors were there for me, that believed in me, that gave me the opportunities, that gave me the knowledge and the intuition to believe I can do what I can do, to be back in time, faster than what they told me."
Comments
comments