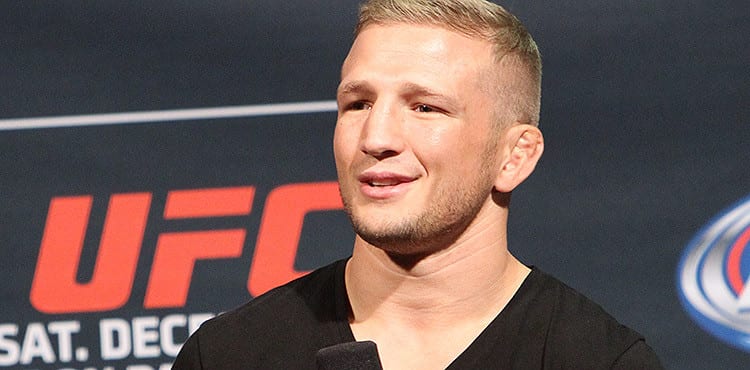 TJ Dillashaw isn't yet a month removed from re-claiming the UFC bantamweight championship but has made no bones of his desire to add another title to his trophy cabinet — specifically, that of Demetrious Johnson, the UFC flyweight kingpin.
Dillashaw actively campaigned to be paired with 'Mighty Mouse' this past summer after his initial bout with Cody Garbrandt was delayed due to a back injury suffered by the former champion.
However Johnson apparently wasn't so enthused with the idea of handing a title shot to a fighter who hasn't competed at 125-pounds, particularly when he ws chasing the title defense record  previously set by Anderson Silva. Now, and once again with a UFC belt draped over his shoulder, Dillashaw says he intends to become the latest fighter to become a champion in two different weight classes.
"The next fight that makes the most sense, that's going to get the fans interested that's true to MMA is Mighty Mouse. That's the fight that makes sense," Dillashaw said to TMZ Sports.
The next step is to garner Johnson's own interest in this potentially history-making bout. Dillashaw, for his part, says that he doesn't see why 'Mighty Mouse' might be against the idea.
"That's the fight that makes the most sense for himself, even more so than for me.  He needs a fight that's sellable. Demetrious Johnson has always showed up, he's always done his job. He's always been the better fighter, he's looked awesome. He's finished fights, [he's] looking great. Really what it comes down to is not having the opponent to say, 'We're excited about this fight'.
"This is the fight that will get fans entertained and be glued to the TV because he's fighting me, not because he's just fighting. That's why he doesn't sell tickets, because everyone knows what's going to happen."
.
Comments
comments