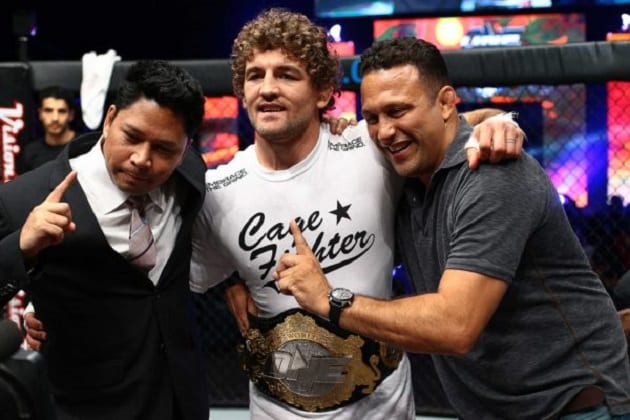 'Funky' Ben Askren, widely considered to be one of the top welterweight fighters to have never competed in the UFC, has won his retirement bout in Singapore against Japanese submission expert Shinya Aoki.
Askren won the fight just 57 seconds into the first round, stopping the veteran Aoki with strikes. The Japanese pulled guard moments into the bout, but was swiftly raised into the air and returned to mat. Askren followed up with some ground and pound to elicit the stoppage.
The (now) former ONE and Bellator welterweight champion steps away from the sport with an undefeated 18-0-1 record.
Explaining to Ariel Helwani of MMAFighting in September of his decision to walk away from the sport at the age of 33, Askren said it was because mixed martial artists sometimes have a tendency to overstay their welcome.
"I mean, you think about who retires during their prime, the number of athletes who do that in any sport is very small. And obviously a sport like golf, where you see Tiger Woods fall off — well, there's not really too much damage he could take from that, right? Although when you watch him and he sucks, and you're like, 'God, he used to be so good, but you suck now,' it's kind of disconcerting as a fan, right?
"But then you look at someone like Muhammad Ali, who was literally my favorite athlete of all-time. The punishment he took from sticking around too long past his prime, man, I would have to say — we can't prove it, but I'd have to say we could guess it led to a lot of the problems that he had later in his life."
Despite that, Askren did leave the door slightly ajar for a comeback — though with one particular caveat.
"There would be one, and only one, way I would ever come back for another fight: if it was for the No. 1 spot in the world," Askren stated. "Not two, not three, not four, not five. None of those spots. Against the No. 1 guy in the world. And then obviously the second part of that would be (if) his name is not Tyron Woodley, because I have no interest in fighting Tyron. He's a very good friend of mine.
"So, if for some reason the No. 1 person's name was not Tyron Woodley, and I got offered a fight against No. 1, I would come back to prove I was No. 1. But other than that, I'm retired. I don't need to prove come back and prove I'm two or three or four, anywhere in there. I'll be done."
Comments
comments