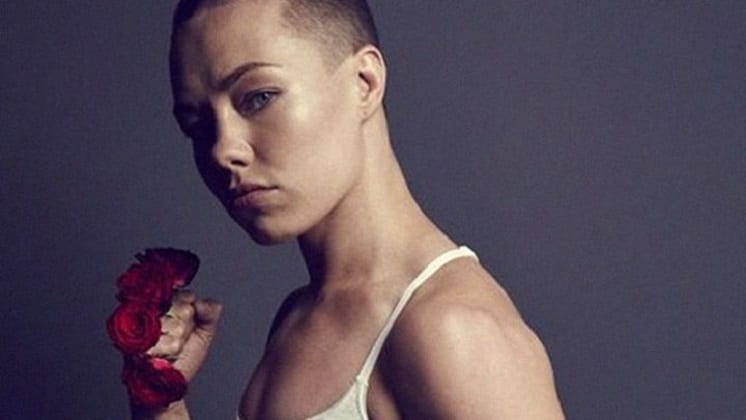 During the build up to UFC 217, the topic of mental health was brought to the fore when defending strawweight champion Joanna Jedrzejczyk publicly outed Rose Namajunas as being 'emotionally unstable'.
While many a fighter would have shied away from such a loaded label, Namajunas instead embraced it, taking the 'boogie' woman's attempt to discredit her character as an opportunity to speak not only about her troubled childhood, but the role in which MMA has played in helping her through such trying times.
"In my childhood I was sexually abused," she confided to the media in the days following her win. "I come from a place of lots of turmoil. Joanna can say I'm mentally unstable and this and that and she might be right? I have a history of it in my family but I think that's what makes me so great of a fighter. I'm as crazy as hell and fighting helps me with that."
Namjunas is not the only fighter who has spoken publicly about her state of mind in recent weeks.
Following his defeat to GSP via a rear naked choke, Michael Bisping admitted to feeling 'down' and 'without a purpose.'
In a move that many of his fellow UFC fighters have referred to as 'gangster', Bisping has since volunteered to replace Anderson Silva at UFC Shanghai following the Brazilian's failed USADA drug test.
"It's like a gift from the gods," He told Ariel Helwani on the MMA hour, "I get the chance to fight again. Physically I'm fine, but mentally I'm wounded and the only thing that's going to make that right is that I'm able to fight again."
So, what is it about not only mixed martial arts, but physical exercise that helps people from all walks of life to exorcise their demons?
1. Martial arts; a form of mindfulness
If you are trying to master a striking combination, a new grappling or BJJ technique, you are living very much in the present moment. In fact, every fibre of your being is focused on getting, retaining or following through on that perfect execution of movement. Such a state is deeply entrenched in the practice of mindfulness.
Mindfulness can be defined as a moment to moment awareness of one's experience without judgement and has been proven to help alleviate symptoms anxiety.
Taisen Deshimaru, Japanese Buddhist teacher and author of 'The Zen Way to Martial Arts', summarises the crossover between mindfulness and martial arts, saying: "In sports, time exists. In the martial arts there is only the present. In the martial arts there is no time to wait. Victory or non-victory, life or not life, are decided in no time."
2. Exercise lifts your mood.
MMA commentator Joe Rogan is known for waxing lyrical on his aptly named podcast The Joe Rogan Experience about the benefits of exercise.
During episode #901, he talks about the negative effects that not exercising has on his mental state.
"If I can't get a workout in…I'm thinking I'm not going to feel good , I'm not going to feel relaxed, I'm not going to feel carefree."
Looking at the benefits of exercise on our mood from a more scientific standpoint, James Blumenthal, a clinical psychologist in Duke University has explored the mood – exercise connection through a series of randomised control trials. After four months of treatment, Blumenthal concluded that exercise was generally comparable to antidepressants for patients with major depressive disorder.
3. Regular exercise steadies your nerves
Operating on the premise that our physical response to stress mirrors that of exercise (increased heart rate, perspiration etc) Jasper Smits, Co-Director of the Anxiety research and treatment program at Southern Methodist University in Dallas engaged in studies to discover whether regular workouts would help people prone to anxiety to become less likely to panic in a fight or flight situation.
Sixty volunteers took part who had a heightened sensitivity to anxiety and those who participated in a 2-week exercise program showed significant improvements in terms of anxiety sensitivity.
"Exercise in many ways is like exposure treatment," concludes Smit. "People learn to associate the symptoms with safety instead of danger."
Yet despite the clear benefits that physical activity can elicit when it comes to managing our mental health, as former bantamweight champion Dominik Cruz pointed out whilst speaking on the Joe Rogan podcast earlier this year, relying too heavily on physical activity to manage your emotions has its risks.
Having suffered many career threatening injuries, including repeated ACL tears, Cruz knows how devastating it can be when your ability to compete is taken away.
"I had my depression that was hitting me … I didn't understand why it hit me so hard after I stopped competing. Well the reason is, my body was used to the active, the activity just go, go, go, and what I realised was… I turned off all my emotional spiritual and mental issues with exercise to where I never ever ever ever dealt with them – ever."
While one could view Bisping's flight into Shanghai as an attempt to escape rather than exorcise his demons, when it comes to exercise and our mental health the pro's clearly outweigh the cons.
Case in point, when I read about Scottish Muay Thai champion Joanne Calderwood and her lifelong battle with depression, SBG Ireland's former Cage Warriors champion Aisling Daly and her experience with anxiety and GSP's struggles with Obsessive Compulsive Disorder, I can't help but draw a correlation between their personal difficulties and their decision to dedicate their lives to mixed martial arts.
While I can't speak for any of the above UFC fighters, I would imagine that their participation in the sport and their overall involvement in the MMA community has played a positive role for the most part in helping them to deal with their own personal fights outside of the Octagon.
By Christine Allen
Comments
comments