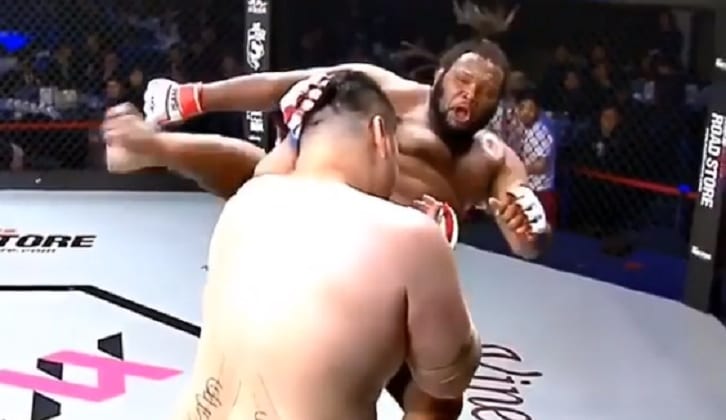 Here is another one to file under 'something you don't see every day'.
Chris 'Huggy Bear' Barnett, a 5'9″ near 300-pound super heavyweight, is back in the win column after earning a second round TKO victory against Yoon Jae Shim at Road FC 45 just before Christmas. This puts an end to a three-fight skid for the American fighter who formerly trained out of the Blackzillians camp in Florida but it wasn't so much the fact that Barnett won, it was more the manner in which he did it.
Barnett, now 16-6 in the pros, says that insists on having the most exciting match-ups imaginable. In an interview with MMAJunkie's Mike Bohn earlier this year, Barnett said that when you pay to watch him fight you can certainly expect to see the unexpected.
"My overall goal is just to be out there," he said. "I want to be noticed to the point where people say, 'Chris Barnett is fighting, let's turn everything off and watch Chris fight tonight.' I want that notoriety.
"I call it 'don't blink,'" Barnett said of his fighting style. "At any point I might throw a 360 tornado kick, a spinning hook kick, a spinning backfist. Every time I train I like to learn something new. I play a lot of video games, so if I see it in the game there's no reason I can't do it. If someone else can do it I can do it."
And this is exactly what happened in Barnett's bout a few days ago as 'Huggy Bear' unleashed a vast arsenal of strikes (including the 360 degree tornado kick) against his opponent.
You can watch the highlights via Alistair Overeem's Instagram post below.
.
Comments
comments