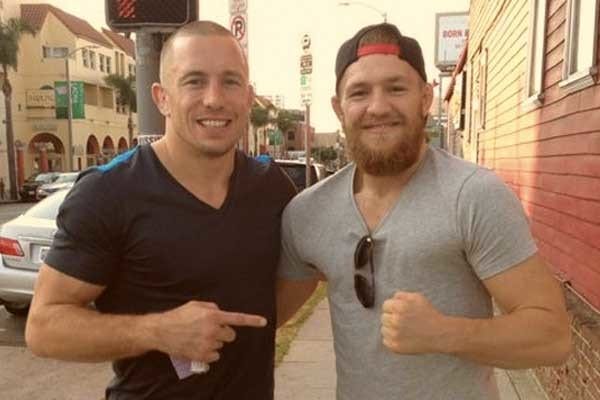 As of now it appears unlikely that Conor McGregor and Georges St-Pierre — arguably the two most popular fighters in UFC history — will ever share an octagon together but that hasn't stopped the Canadian's coach from talking up a prospective bout between the two.
St-Pierre, the former welterweight champion, returned to action following a four-year hiatus in November and defeated Michael Bisping to claim the UFC's middleweight title at UFC 217 in New York City. However just weeks later, GSP vacated the belt and appears set to return to more familiar ground at 170-pounds for his next bout.
With no immediate rival on the radar, St-Pierre's coach Firas Zahabi has taken stock of the UFC roster and identified Conor McGregor as the most potentially lucrative bout that both fighters could engage in.
"I don't think that's crazy. I've been asking for that fight for over a year and a half now," Zahabi said to The Express of a showdown between McGregor and St-Pierre.
"I don't think it's a crazy fight. I think it's a brilliant fight. I think Conor McGregor is a two-belt champion, two division champ.
"He's got the touch of death in his hands. He knows what he's doing, he's highly intelligent, highly captivated, he's extremely dangerous. And I don't think he fears anybody. So I think him and Georges would be a phenomenal fight.
"It would probably be the biggest fight in UFC history and MMA history," Zahabi added. "And that record wouldn't be broken for ten years. So why not do it?"
McGregor is expected to return to mixed martial arts for his next combat sports outing, with a title defense against Tony Ferguson mooted. St-Pierre is currently battling colitis, so with their immediate futures apparently tied up it remains to be seen whether a McGregor vs. GSP bout could ever come to fruition but if it does, you can expect Dana White to be a very happy man indeed.
Comments
comments