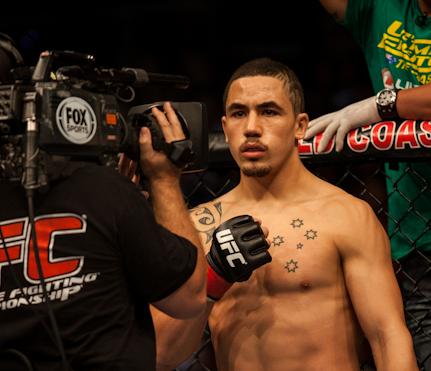 Robert Whittaker just put himself on the map.
The 26-year old went into UFC Kansas on Saturday night as the marked underdog against one of the most dominant grapplers in the sports history, Ronaldo 'Jacare' Souza.
But, despite being seemingly up against it, it was Whittaker who emerged victorious.
After surviving a scramble on the floor in the first, Whittaker managed the distance and striking incredibly, jumping in and out with hooks a plenty. Then, early in the second round, Whittaker caught Jacare and dropped him to the floor, piling on the pressure.
Following that, Souza never quite looked to have his feet back under him, and after being hit with a headkick and sent to the floor, Whittaker got himself the biggest finish of his career and his seventh victory in a row.
LATER GATOR! @RJWhittaker1990 is making his move in the middleweight division. HUGE finish. pic.twitter.com/FkVNgz0Zd3

— FOX Sports: UFC (@UFCONFOX) April 16, 2017
"I knew he was hurt in the second round," Whittaker said, post fight. "I had a good start, and I knew in myself … be patient, it'll come. That's exactly what I did, mate. … As a fan of the sport, I'm gutted to see Jacare lose.
"Bisping owes me a fight, it's cool he's doing his own thing, but you owe me a fight."
Whittaker and Bisping were actually scheduled to face each other back at UFC 193, only for the Brit to pull out with an elbow injury. Now, it looks like the middleweight champion has one more name to worry about at 185-pounds.
—
Comments
comments