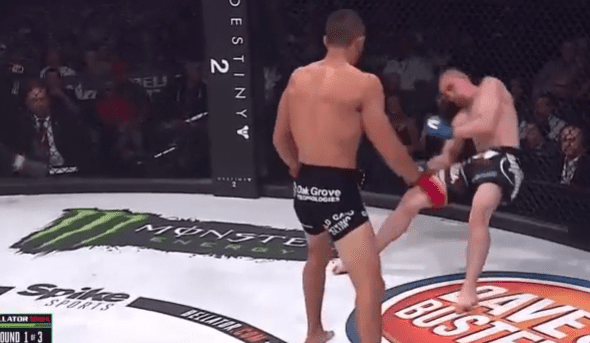 On his second time in the Bellator cage, Aaron Pico showed he was more than just a load of hype. On his birthday, no less.
The 21-year old, labelled as one of (if not) the best prospect to ever enter into mixed martial arts famously lost his debut in June this year. Tonight, dropping down to featherweight, Pico made sure that any who were willing to disregard his talent were silenced.
Facing Justin Linn, Pico put forth a much more restrained performance. While his ability to control Linn on the ground with his wrestling kept him safe when he needed, Pico also managed to show an improved stand up game. Pushing Linn against the cage, Pico threw a multitude of flurries, before finally catching Linn with a beautiful left hand that dropped put Linn's lights out.
"It feels good to go out there and do what I do," Pico said post-fight. "Especially in California, my hometown. I'm really happy right now, I'm really happy. First victory, it's something I'll always remember on my twenty first birthday."
And, as if to cap a professional performance, Pico turned down the opportunity to call out any specific opponents, instead stating he would simply continue his journey until he reaches the gold.
"Right now I'm still young," he said. "I'm just going to stay in my lane and do what I do."
Comments
comments