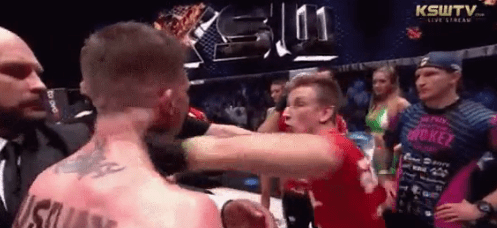 Norman Parke and Mateusz Gamrot are not going to be having a beer together anytime soon.
The two have had an increasingly embittered rivalry over the past few months, which has seen weigh-in scuffles, steroid accusations and more. Their first contest at KSW 39, you may recall, was marred in controversy after it appeared Gamrot deliberately bit Parke's finger in a grappling exchange.
Tonight, however, things went to a whole new level.
After Parke was on the receiving end of multiple eye pokes, the cageside doctor ruled him unable to continue, and the fight was brought to a halt, ruled a no contest.
The eye poke from Gamrot that ended the fight #KSW40 pic.twitter.com/f7hKZPuXhP

— caposa (@Grabaka_Hitman) October 22, 2017
Then, after Parke was infuriated by proceedings and went to berate Gamrot and his cornermen, one of Gamrot's team hit Parke with a full on sucker punch.
Gamrot's cornerman punches Norman Parke. These things happen in MMA. #KSW40 pic.twitter.com/FdTN8VR9bt

— caposa (@Grabaka_Hitman) October 22, 2017
It's as yet unknown what consequences Gamrot and his team will face for such an egregious offence.
Comments
comments