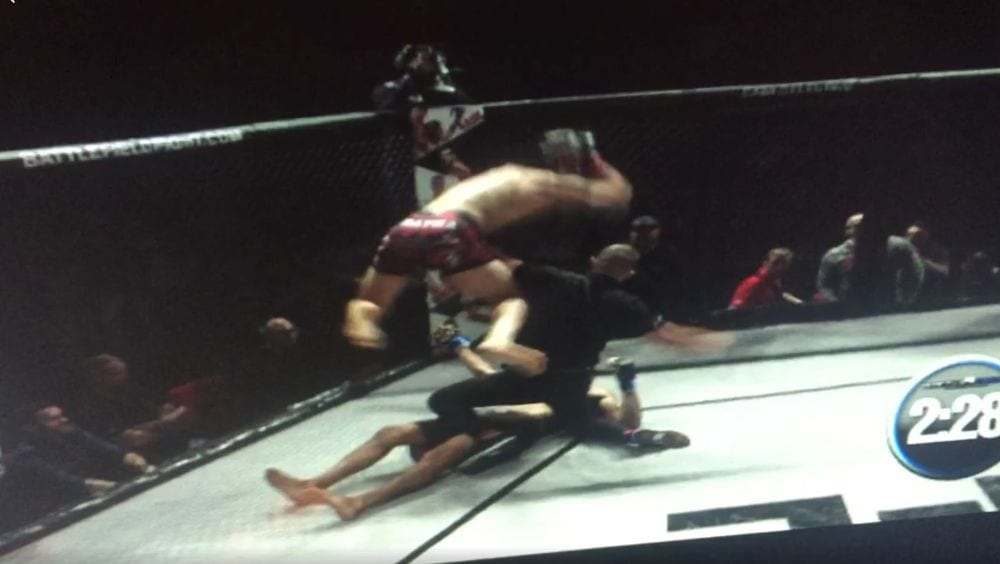 If you cast your mind back the better part of a decade you might recall Dan Henderson being on the receiving end of a whole lot of flak after dropping a fist on an unconscious Michael Bisping's skull in their grudge match at UFC 100. 
Well, that after-the-bell strike has been well and truly one-upped in a fight at regional organisation Battlefield Fight League when Austin Batra took on Perry Hayer for the the BFL amateur welterweight title.
Batra appeared to have the fight won when he uncorked a left hand which sent Hayer plummeting to the canvas but as the referee stepped in to wave off the bout, Batra inexplicably dropped what can only be described as a 'double axe handle', if you'll forgive us borrowing terminology from the world of professional wrestling.
The offending fighter was, of course, disqualified AND stripped of his title following the incident.
Check out the clip below:
Wow. Craziness at #BFL57. Austin Batra KOs Perry Hayer but gets disqualified for this unnecessary jumping asshole finish. Wild stuff. pic.twitter.com/W7frtUrS0l

— Fight For Something (@fight4something) September 23, 2018
Hat-Tip: MMANYTT
Comments
comments