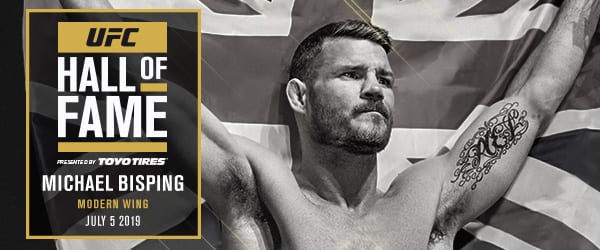 Michael Bisping is a UFC Hall of Famer.
Tonight at UFC London, it was announced the former middleweight champion is set to headline the Class of 2019, and will be inducted into the UFC's Hall of Fame in July during International Fight Week. He'll enter into the Hall's "modern wing."
It's a testament to Bisping's incredible career. Repeatedly written off as a man who couldn't get his chance at a world title, Bisping knocked out Luke Rockhold against all odds and on short notice to firmly write himself into the history books.
"It's hard to have the level of talent needed to compete in UFC for any amount of time, but Michael Bisping was able to have an 11-year career where he became a world champion and won The Ultimate Fighter, not many people can say that," UFC President Dana White said through a press release. "He also came back and coached The Ultimate Fighter and is now one of the best analysts on our broadcast team. Michael has been a huge part of not only building our brand, but also the sport of mixed martial arts. He absolutely deserves to be in the UFC Hall of Fame. Congratulations."
The UFC Hall of Fame ceremony will be streamed on UFC Fight Pass Friday, July 5 from Las Vegas.
Comments
comments