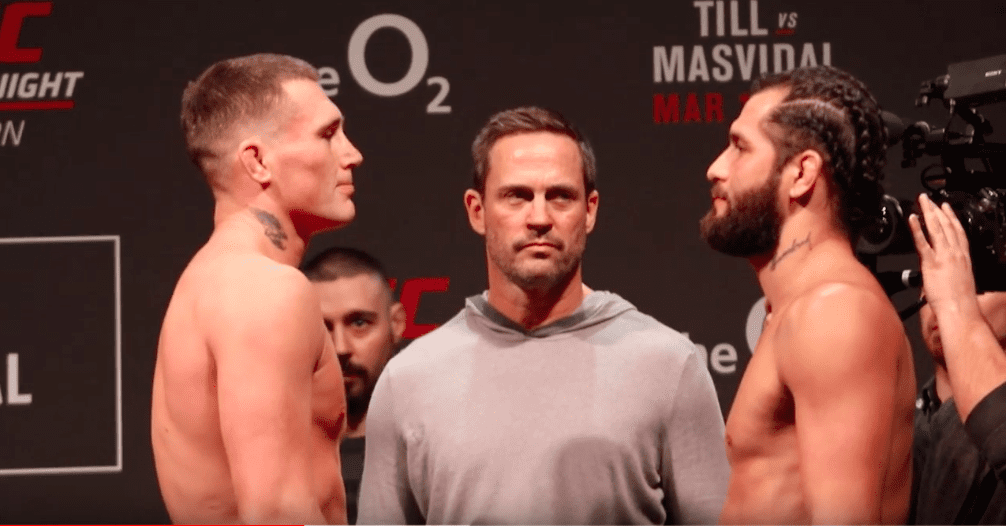 The UFC makes its return to the English capital on Saturday with a card which will have major repercussions in a welterweight division currently in a state of flux.
In the main event Darren Till, the great hope of British mixed martial arts, will be aiming to rebound from his defeat at the hands of Tyron Woodley last year and re-establish his credentials as a title contender at 170-pounds, especially now that Kamaru Usman has wrestled the title from the grasp of the former champ.
Darren Till has emerged as one of the welterweight division's most feared strikers, but what separates from him from the majority of his peers is his fight IQ. He is adept at being a pressure fighter, walking forward and attempting to create opportunities for his laser-sighted left hand (see: Donald Cerrone). Not only that, the Liverpudlian is equally happy in a high-stakes, technical striking battle (see: Stephen Thompson).
Is Darren Till angry ahead of UFC London? You bet. And it's a good thing.

FULL –> https://t.co/LqBBDGABD6 pic.twitter.com/Uya0PBQ4aa

— TheMacLife (@Maclifeofficial) March 14, 2019
What does this tell us? Till is a creative striker and knows when to pull the trigger or when to sit back and await a mistake on the part of his opponent. Which of those two will it be this weekend? The former, we expect. Till is still smarting from his world title defeat last September and has predicted a first round finish of Masvidal — something which hasn't happened to the American since 2005.
Does Jorge Masvidal have the tools to stop Darren Till? In short, yes. Fighting is in the Cuban-American's blood. He has been fighting for as long as he could form a fist, and was even featured in some of Kimbo Slice's famous backyard brawls in Miami (poor 'Ray' never knew what hit him).
Jorge Masvidal is bored of trash talk, but maybe he needs to just join in.

FULL: https://t.co/pOpeHSzKp9 pic.twitter.com/s8UmnNXqZl

— TheMacLife (@Maclifeofficial) March 14, 2019
Despite losing two straight to Stephen Thompson and Demian Maia, Masvidal remains one of the most 'game' fighters at 170. He is an excellent boxer, completed with a robust submission game — but more crucially, he seems to enjoy pursuing a crowd-pleasing type of fight, something which will be answered in kind by his opponent.
Jorge Masvidal is as tough as nails but our money is on late Till stoppage.
Another welterweight pairing with implications on the welterweight division is the co-main event battle between Gunnar Nelson and Leon Edwards. Both fighters come into the clash on the back on impressive victories, with Nelson scything his way through Alex Oliveira in December and Edwards earning a decision win against Donald Cerrone last June.
England's Edwards has won six straight at 170-pounds but this is, by far, the sternest test of his career (aside from when he fought a relatively unknown Kamaru Usman several years ago). Edwards is a quick striker and deceptively large for the welterweight division but, if we were Edwards fans, we'd be concerned with him appearing to look past Nelson towards a fight with the winner of the Till/Masvidal main event.
Check out the co-main event fighters Leon Edwards and Gunnar Nelson, both of whom made weight in London. pic.twitter.com/4DHtry9GCb

— TheMacLife (@Maclifeofficial) March 15, 2019
Nelson is not just one of the grapplers in the welterweight division, but on the UFC roster as a whole. 13 of the Icelander's 17 wins have come by submission — with 9 of those coming inside the first round. He is also a more than capable striker, employing an in-out karate style to flummox and bait opponents into situations where they are uncomfortable.
Gunnar Nelson speaks about his 'advantage' on the ground against Leon Edwards at UFC London | https://t.co/7J1hcLRgo6 pic.twitter.com/orecuJtqaU

— TheMacLife (@Maclifeofficial) March 14, 2019
He has fought several vaunted strikers in his UFC run thus far and our money is on Gunnar Nelson rocking Edwards on the feet, before jumping on a submission much like the Brandon Thatch or Albert Tumenov bouts. Second round.
QUICK SHOTS
Joe Duffy vs. Marc Diakiese 
This should be an interesting striking battle. Donegal's Duffy has been absent from the cage since a loss to James Vick in November 2017, while Diakiese has surrendered his undefeated record by losing three straight in the UFC. Duffy is a slick striker with a savvy submission game and should have too much in his locker to the Englishman.
Volkan Oezdemir vs. Dominick Reyes
Former world title challenger Oezdemir badly needs a win to remain releveant at 205-pounds but he won't get it against the unbeaten Reyes, who should win by first or second round TKO.
John Phillips vs. Jack Marshman
Phillips is still awaiting his first UFC victory but has a great chance to do just that in the 'Battle of Wales' against Jack Marshman, who came in two pounds over the middleweight limit. Phillips will have to be wary of being caught in a submission but if the fight stays on the feet, he is the far more concussive of the two strikers.
NOTES:
Ben Askren will be in attendance, look for him to get in the face of whoever comes out on top in the main event.
England's Nathaniel Wood is a superb prospect and should increase his blossoming reputation on Saturday.

Weigh-in Results:
MAIN CARD
Darren Till (171) vs. Jorge Masvidal (171)
Leon Edwards (170) vs. Gunnar Nelson (170.5)
Volkan Oezdemir (205) vs. Dominick Reyes (206)
Jose Quinonez (135.5) vs. Nathaniel Wood (135.5)
Danny Roberts (170) vs. Claudio Silva (170)
Jack Marshman (188) vs. John Phillips (185)
PRELIMINARY CARD
Arnold Allen (145) vs. Jordan Rinaldi (145)
Marc Diakiese (155) vs. Joe Duffy (155)
Nicolae Negumereanu (204) vs. Saparbeg Safarov (205)
Tom Breese (186) vs. Ian Heinisch (186) * Fight has been cancelled
Danny Henry (146) vs. Dan Ige (146)
Priscila Cachoeira (125) vs. Molly McCann (126)
Mike Grundy (145) vs. Nad Narimani (145.5)
Comments
comments