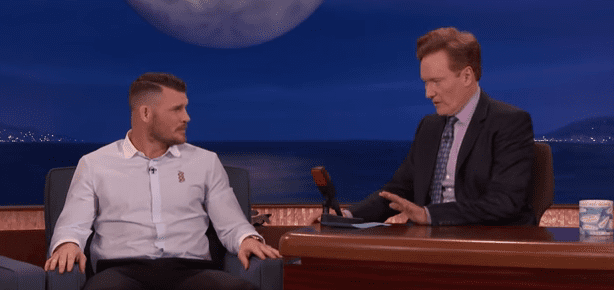 It's one of the oldest normalities in mixed martial arts: Michael Bisping likes to talk a little trash before his fights.
So ahead of his upcoming title contest with Georges St-Pierre, it's not unexpected that the middleweight champion has started to pour on the abuse somewhat. Poking fun at St-Pierre's injuries, his physique — and maybe giving a not so subtle hint he believes the former welterweight champion might be using performance enhancing drugs.
Appearing on the Conan O'Brien show, Wednesday, Bisping did do his best to retract the steroid comments — although perhaps it could have been slightly more eloquently put.
"I alluded possibly that he was trying to get the steroids out of his system," Bisping said. "But honestly, I don't think it's that. I don't want to publicly say that.
"He's coming up a weight class, from welterweight to middleweight. So I was saying he was doing lots of weights to get bigger. Realistically, I think he's trying to grow the size of his balls. Georges, man up buddy, let's go."
"Na, I don't [really think he is]," Bisping continued. "Doing typically what I do, just talking a little smack. Just trying to irritate him, which unfortunately I have a knack for doing."
Full Interview with Conan Here:
Bisping and St-Pierre will meet at UFC 217 on November 4.
Comments
comments