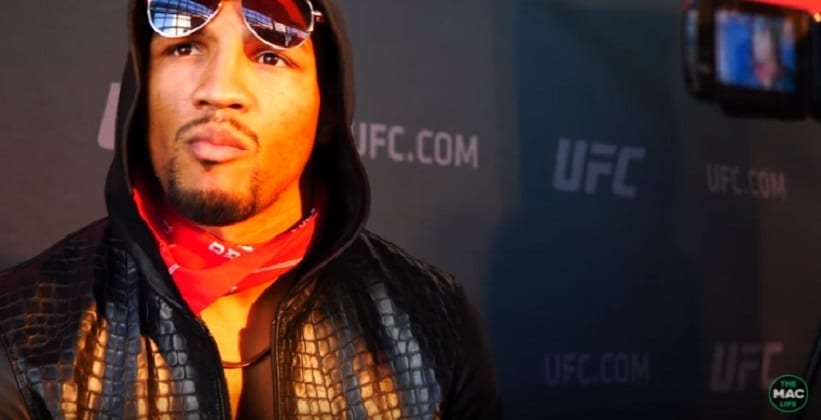 Recently, while Kevin Lee was scrolling through his Facebook feed, he saw a 'Facebook Memory' of a post he wrote three years ago in which he predicted he would be a world champion by 25. This weekend in the main event of UFC 216, 'The Motown Phenom' gets the opportunity to make good on that promise.
It won't be an easy task. Standing across the cage from Lee on Saturday night in the interim 155-pound title bout in Las Vegas will be Tony Ferguson, a fighter in the midst of a 9-fight winning streak and the consensus number one contender to Conor McGregor's official lightweight title.
Lee says that his path to UFC gold was written long ago, even if a victory won't be enough to claim the record of the youngest UFC champion ever.
"I was hoping to chase Jon Jones' record, so I'm a little disappointed in myself to be honest with you. I'm a bit of a perfectionist," Lee said to TheMacLife.com at the UFC 216 media day.
While Lee's confidence is sky high, he remains under no illusions as to the challenge which awaits him.
"Tony is the toughest fight in this division," Lee stated. "I think once I go out there and smoke him on Saturday, you can't doubt me no further. Tony has always been the toughest fight. Nobody wants to fight Tony Ferguson and I'm going to go out there and I'm going to do it."
Despite Lee's current run of 5 straight wins in the Octagon, some eyebrows were raised when Lee was announced as a challenger for the interim title in a division which also contains fighters like Khabib Nurmagomedov, Nate Diaz and Eddie Alvarez, all of whom can state cases of their own to occupy the spot.
The pairing between Lee and Ferguson has a spark of its own, however, after the two fighters verbally clashed live on a FOX broadcast following Lee's controversial victory against Michael Chiesa in June but Lee doesn't think that this was the sole reason UFC matchmakers elected to book the fight.
"I think it was the rightful fight to make even if we didn't do that. Like I said, Khabib didn't want to fight. Eddie (Alvarez) and Justin (Gaethje), they are beating themselves into retirement. Nate's off smoking in Cabo or something, so this was the fight to make.
"I've got all the credentials, I ain't just talked my way into it. After this they can talk about rankings all they want, after this one I'm number one."
Comments
comments