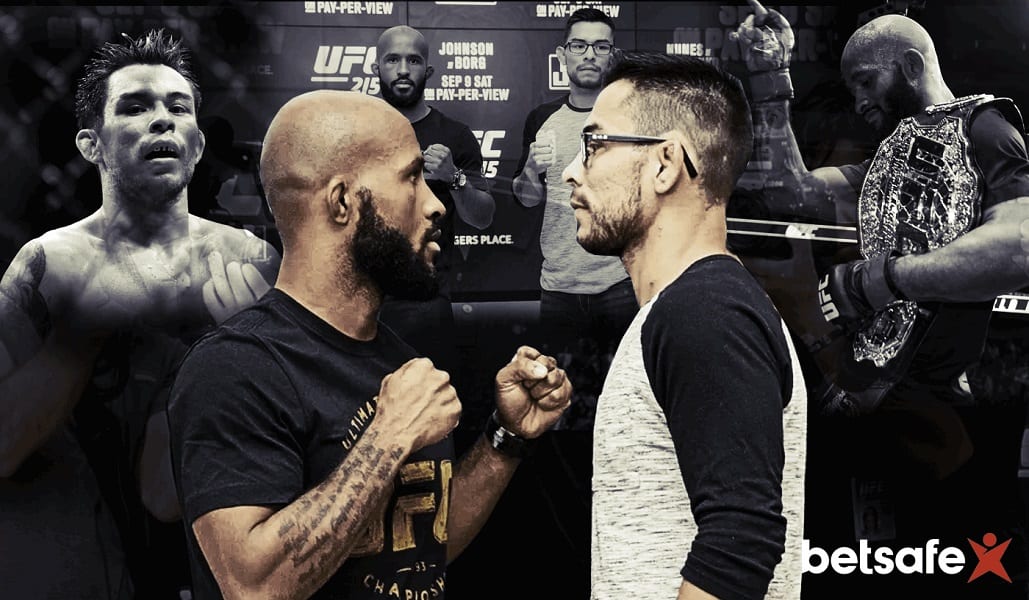 The UFC record books might take some amending this Saturday night at UFC 216. If Demetrious Johnson, the greatest flyweight fighter in history, is successful in the co-main event against challenger Ray Borg, 'Mighty Mouse' will bypass Anderson Silva and set a new record for consecutive title defences.
On paper, it seems a formality. At 26-2-1, Johnson is one of the most dominant fighters in the sport, capable of ending fights in a myriad of different methods. His last three victories (wins over Wilson Reis, Tim Elliott and Henry Cejudo) were finished by submission, decision and TKO, showcasing the vast arsenal that the champion has at his disposal.
The latest 125-pounder to be offered an opportunity to dethrone Johnson is Ray Borg. The two were slated to meet each other at UFC 215 but an illness on Borg's part put paid to that. Luckily for fight fans the turnaround was a quick one.
The 11-2 Borg has the deck stacked against him on Saturday night. Somewhat unusually for a title out, he comes into Saturday night with a 2-1 record in his last three bouts — all of them decisions — but his two recent wins against Louis Smolka and Jussier Formiga are certainly worthy of note. Ideally speaking, the UFC would likely have wanted to allow Borg to add a couple of more wins to his current sequence before putting him in the Octagon with Johnson but, well, Johnson has beaten practically every contender at flyweight.
Unsurprisingly, Demetrious Johnson is a heavy favourite at 1/12 while Borg's underdog status is underlined by his odds of 34/5.
The Pick:
It would take a very brave person to bet against Demetrious Johnson, particularly with him on the cusp of history. 'Mighty Mouse' is a patient fighter and has gone on record as saying that the title defence record is something he is looking for, so look for a Johnson to employ a safety first, conservative gameplan en route to a lob-sided decision victory.
As tempting as Borg's odds are, they reflect exactly how difficult this assignment will be for the Arizona native. While upsets do happen in MMA, a Ray Borg victory over Demetrious Johnson would at least be on a par with Matt Serra's historic win over Georges St-Pierre. That fight is often cited as the biggest title upset in the annals of the UFC but it's worth remembering; that was more than ten years ago. Ray Borg is an excellent fighter, one of the best in the division, but he is coming up against the end-of-game boss of the UFC's flyweight division.
The pick is Demetrious Johnson via unanimous decision.
You can join Betsafe today to place your bets for this weekend's UFC 216 from the T-Mobile Arena in Las Vegas. Special offers are available for new customers and you can view all of the details via the Betsafe website.
Comments
comments