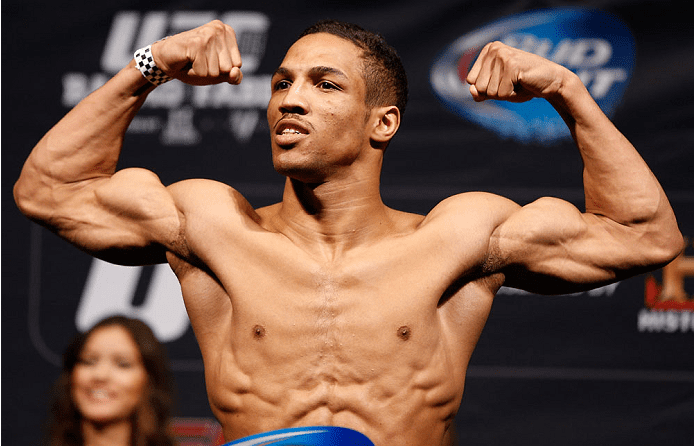 It might not have come in the most favoured way possible, by Kevin Lee left UFC Atlantic City main event as the victor over Edson Barboza on Saturday night.
The pair put on a phenomenal showing, before the doctor ruled Barboza unable to continue due to a heavy cut over his right eye.
Lee came out of the gates with bad intentions, marching forward and throwing numerous strikes until he managed to have Barboza moving back enough to shoot for the takedown and drag the Brazilian to the canvas — something which quickly became the story of the entire fight. Repeatedly, Lee would found his way into mount and begin to fire elbow after elbow to the face of Barboza, swelling Barboza's features and leaving him badly bruised.
Kevin Lee is POURING it on Barboza here in round 1!!#UFCAC @MotownPhenom pic.twitter.com/jqepn02fkE

— UFC (@ufc) April 22, 2018
¡WOW!!!!! #UFCAC pic.twitter.com/WAE86Y4hXu

— UFC Español (@UFCEspanol) April 22, 2018
While that continued on for two rounds, the third proved that, no matter how beaten he might be, Barboza can always provide a danger. As Lee marched forward in search of another takedown, Barboza threw one of his lightning fast spinning kicks, landing to Lee's head putting the 'Motown Phenom' on wobbly legs and nearly out of the fight.
In the fourth, the pair exchanged with heavy shots early on, before Lee once again found the takedown — although the blows from the top lacked some of the heavy impact they did at the beginning of the contest. In the fifth, all that success ended up paying off, with Barboza's face a crimson mask, causing the doctor to call an end to the bout.
Heading into the event, Kevin Lee repeatedly pointed to Khabib Nurmagomedov's dominant victory over opponent Edson Barboza as a milestone by which he should be judged, claiming he would defeat the Brazilian in a far more impressive fashion than Nurmagomodov did at UFC 219.
While the head kick will be pointed to as evidence he did not do that, Lee's ability to survive and continue to punish Barboza proves the American is a legitimate contender in the 155-pound division.
"I said it before the fight, mental strength was going to beat him," Lee said post-fight. "…I can do it all. I feel I'm the most well rounded fighter in this division. … The folks know what time it is. It's Khabib time, baby."
Comments
comments