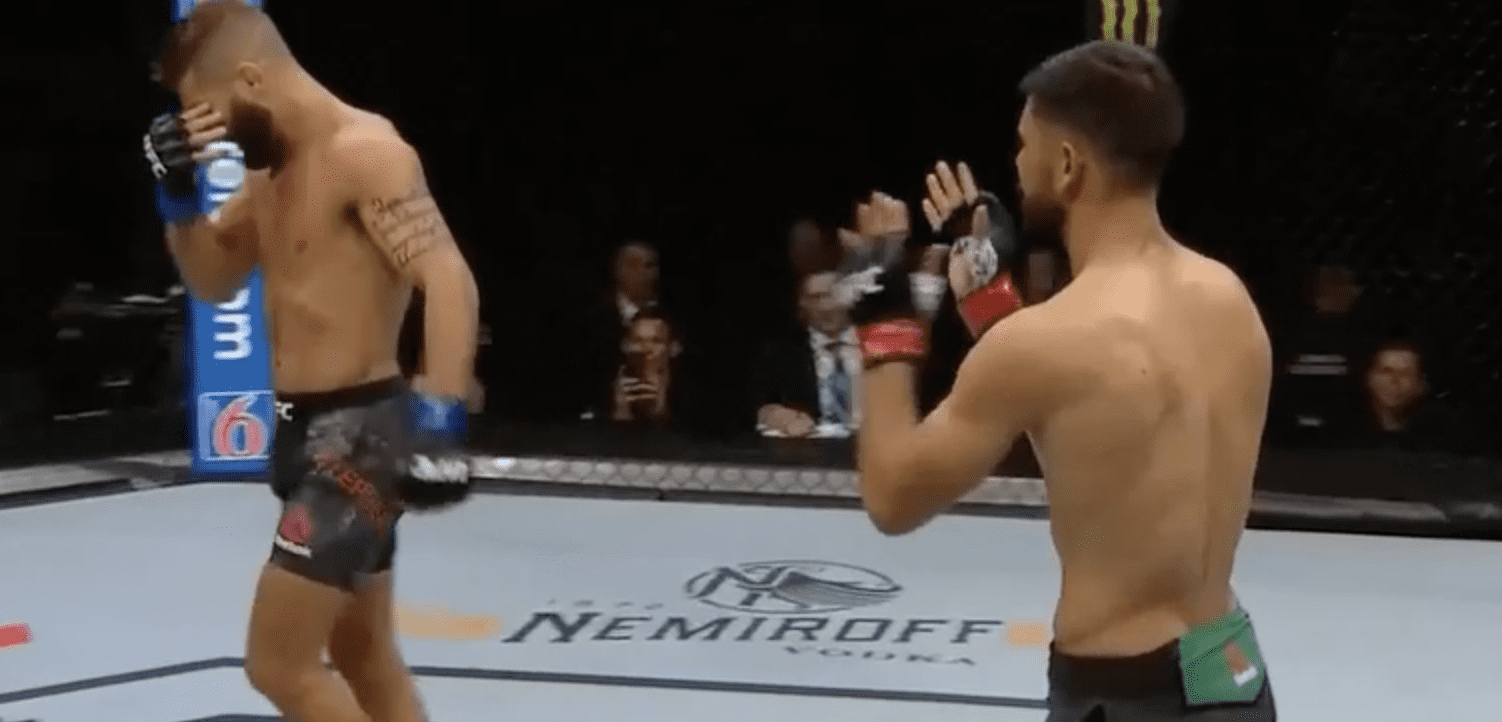 Tonight's main event in Mexico City ended in about as unfortunate a situation as there can be.
Headlining act Jeremy Stephens vs. Yair Rodriguez was barely seconds into the contest when an errant finger from Rodriguez poked Stephens in the eye and forced the bout to be called off. As referee Herb Dean decided the poke was an accident, the contest was ruled a no contest.
Naturally, fans in attendance were upset by the outcome, but unfortunately that emotion boiled over, as they pelted a still injured Stephens with beer and food as the UFC security led him out of the Octagon.
Fans in Mexico City pelt Jeremy Stephens with beer and popcorn after fight is called. @espnmma @marc_raimondi pic.twitter.com/cxv2MlhljC

— Eric Gomez (@EricGomez86) September 22, 2019
Stephens was transported to a medical facility, after still being unable to open his eye backstage. As for Rodriguez, he was incensed by the bout's outcome, and was visibly angry in the Octagon.
"I gave my all. I gave my all during my training camp. I decided to push through this training camp, to do something different," Rodriguez said post fight. "A lot of people, my family and friends, they put a lot of effort, they put in a lot of time. That's the thing that hurts me the most: everybody was putting  a lot of time into this and the way it ended, it made me feel kind of – not disappointed, I don't know if I can say that – but kind of sad. I really wanted to go to war. For example, against Frankie Edgar I couldn't see. He didn't poke my eye, but I couldn't see. My eye was completely close and whenever they asked me if I could see, I said "yes, I can see". You can see the replay.
"I'm willing to die out there. The fact that this happened makes me sad, but everybody is different. I have to give Jeremy the benefit of the doubt. I hope he is ok, I hope his eye is ok. If he could keep on fighting? He is the only one who knows that. Nobody else knows. He is the only one that has to live with that for the rest of his life."
What comes next for both fighters, as is often the case when something out of the norm, is uncertain.
In Rodriguez' mind, however, he's clearly unenthused about an immediate rematch.
"I don't know if this is the fight to make again," he said. "I have to talk to my team before I make any decisions. As I said before this fight, Jeremy Stephens wasn't the first name on my mind, because he is behind me in the rankings. He is brave, a really tough opponent, we all know that, but I don't know. Let's see what happens. I'm really – I don't want to say that – but I'm demotivated to face him. There was a lot of talk before this fight and the way it ended is just kind of sad."
Comments
comments