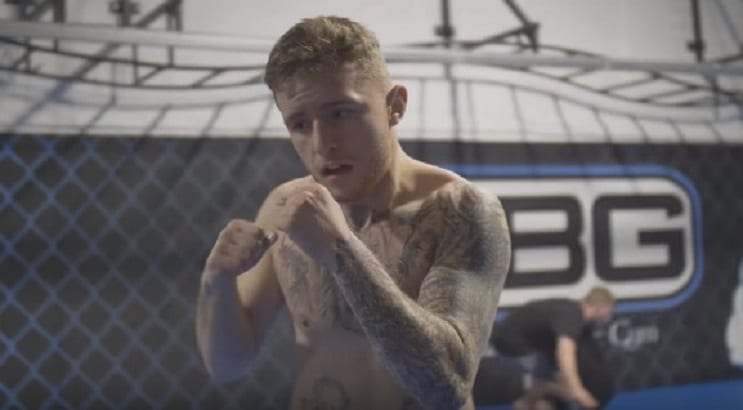 Last October, James Gallagher, one of the stars of Bellator MMA's burgeoning featherweight division, suffered a severe injury to the lateral collateral ligament and posterior cruciate ligament in his left knee. 
To make matters worse Gallagher was preparing for his maiden (official) main event as a member of the Bellator roster. After two events and two wins on the island of Ireland, and hot on the heels of a sublime submission win against Chinzo Machida inside the world's most famous fighting arena, Madison Square Garden, some months prior, everything seemed to be falling into place for James Gallagher.
His next bout was to be an official main event in his nation's capital city, where a fifth win for the promotion would further ignite talk of a title shot. However, one nondescript day inside his training base of SBG Ireland, those plans changed abruptly. While defending a single leg takedown from a training partner, Gallagher's weight distributed at an odd angle and he felt a shooting pain come from the joint.
The sound, described like "a branch snapping", stopped everyone in the gym in their tracks.
A revised main event of A.J. McKee and Gallagher's teammate Brian Moore topped the bill in his stead at Bellator's return to Dublin in November. During the main event Gallagher stood, knee brace and all, watching McKee — a potential future opponent — like a hawk. And now, with a headline bout against fellow undefeated fighter Adam Borics set for April 6th in Budapest, Romania, Gallagher says he is more than ready to renew his plan to clear a path to title contention in Bellator featherweight frame.
As difficult as it is for any professional athlete to sit on the sidelines, Gallagher says it allowed him time for some self-reflection.
"I've never sat back, took a step back, and looked at what I've done coming up", Gallagher said to TheMacLife.com
"How I got there, how I done it. I've sat back, examined it all and now I'm going to change it all up. I'm adding more stuff to the stuff that I was doing good and then I'm getting rid of the stuff that I was doing bad. I'm only going up, I'm only getting better.
"I'm only coming back stronger, bigger, faster and a lot sharper. My mind has got rested. My body was rested. I've been chilling and now I'm back in the gym. I feel like my mind is different, I'm seeing stuff different."
It is often said that in a lot of sports, and in particular mixed martial arts where competition occurs perhaps only three times per year, that fighters can make massive advances in their training in a short period of time. For Gallagher, the same is true even when his injury precluded him from setting foot on the training mats.
"I feel better," Gallagher says of his mindset as he approaches his next fight. "My mind is more clear and now my body is matching it. I'm at it in sparring, I feel sharper than ever.
"It wasn't easy, it was tough. I'm not going to deny it, it was the toughest thing I've ever done in my life. I've never had something that I've loved just taken away from me. It was so clear, I was training for my fight [and] had everything planned out. And then it was gone.
"[It was] way tougher than anything I've faced in a fight. I've never experienced anything like that in my life. It's way tougher on the mind than you would think it is."
With four Bellator wins (and seven in the pros) already under his belt, the 21-year-old Gallagher looks forward to showing off his improvements and, when it comes to his injury, the chance to prove that he has what it takes to turn a negative into a positive.
"You're going to see a lot. I will probably end up taking him down and choking him out, but you're going to see a lot. My striking is on a new level. I'm confident with anyone on the feet, on the floor, wrestling — wherever it goes, I'm going to smoke them all. I'm not here to just go and beat this guy, I'm getting him and he's the first step to me going to get that belt. I'm going to run through them all.
"I'm not here messing around, I'm not just a young kid running around in Bellator … I'm going in to smoke them all."
Comments
comments