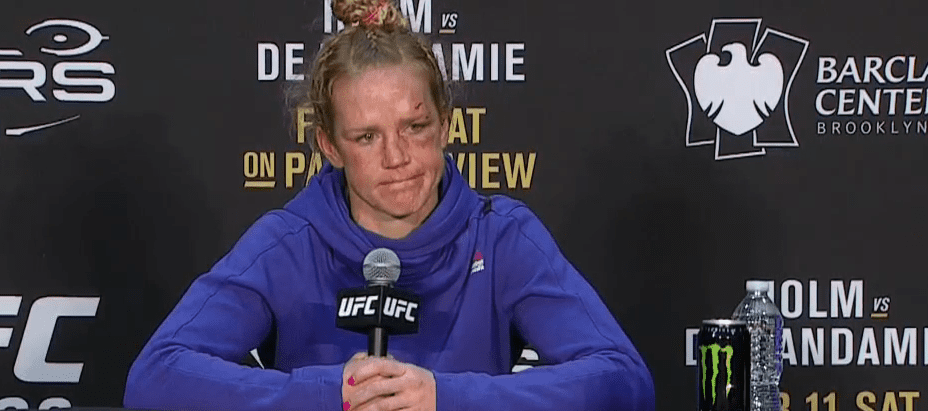 While Holly Holm didn't walk out of the cage at UFC 208 with her hand raised, she did leave with her head held high.
Coming out on the losing side of a judges decision three rounds to two, Holm had a right to feel hard done by, with de Randamie hitting her after the bell on two occasions. While it's perhaps a standard in MMA for a rule infraction to be met with a referee warning rather than any notable punishment, two egregious fouls usually end up with a point deduction.
For Holm, it's something she believed de Randamie was entitled to.
"You know the first one they give a warning," Holm said at the post-fight presser. "That's kind of normal, I wouldn't expect them to take a point after the first one — even though it was intentional. And then at the second time you'd think that's when they'd do something. I don't know. I'm one of those people who think I shouldn't have let her done it anyway."
After the fight, de Randamie apologised for the late strikes, but when Holm was asked if she believed they were intentional blows, her answer was emphatic.
"Yes, it's after the bell. I heard the bell, I stopped and she threw," she said. "It wasn't like the last punch of a combination when the bell rang, it was intentional, it was after the bell. I mean some of her best shots of the night were after the bell, I don't know how the judges saw that. If they see that as points for her then what can you do? I should have kept fighting too then.
"If it's one shot after the bell at the end of a combo, then that's an accident sometimes. You're in the middle of the flurry of it. She hit hard shots after the bell. Those were the hardest shots I felt in the entire fight."
In the lead up to the fight, both women had been exceptionally cordial, and there were seemingly no feelings towards each other save appreciation to be fighting one and other for a new UFC title.
Post-fight though, the usually tranquil Holm couldn't hide her displeasure.
"I guess I'd say [I've lost respect for her]. It's still a fight, I know she's not in there to be my friend. But next time, I'll just be ready to throw back."
As for what's next, currently 0-3 in her last three, Holm believes she doesn't have the right to ask for anything. If the UFC came to her with the option of a rematch, however, she'd be more than okay saying yes.
"When you have more than half the people saying it should have gone the other way, I think that warrants a rematch."
Comments
comments