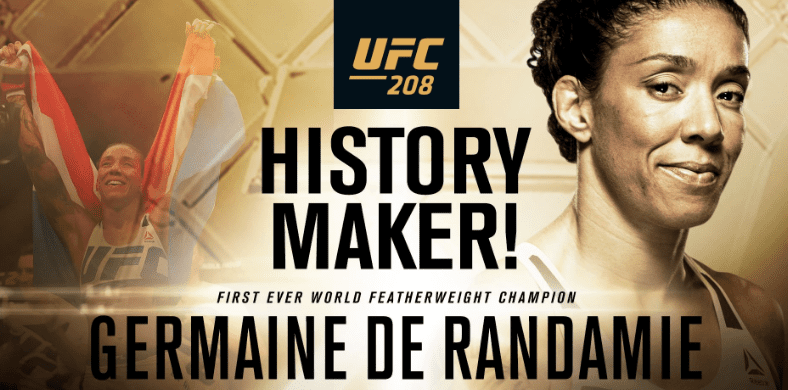 On Saturday night at UFC 208, Germaine de Randamie raised a gold belt and became the first person to ever hold the UFC women's featherweight title. Unfortunately, she did so to murmurs of disapproval and disagreement.
After her and opponent Holly Holm went the full five rounds, it was de Randamie who was awarded a unanimous decision with all three judges showing 48-47 (rounds 1, 3 and 5 to GDR) on their scorecards.
Now, there is no denying the Dutchwoman had major success in the bout. Holm's patented right-left straights to close the distance were nearly unanimously countered with a heavy right hand from de Randamie, and for the first two rounds of the fight it looked as if the American was struggling to find a way into the contest.
That counter right from @IronLadyMMA continues to find a home! #UFC208 pic.twitter.com/jYp5DlPDvw

— UFC (@ufc) February 12, 2017
But the real talking points took place outside of the fight clock's duration. After both the second and third round, the bell rang, and de Randamie hit Holm with heavy shots. The referee, much to the dismay of most watching, warned de Randamie on both occasions and decided against docking her a point — something that few would deny was warranted.
Should that point deduction have taken place, then the slim victory would have likely been a draw, and we would be discussing a very different situation.
"It was an accident to hit her after the bell, it was never intentional," de Randamie said post-fight. "It was just the heat of the moment. I am not that kind of fighter."
Regardless, de Randamie is the new women's champion, and Holly Holm — a woman devastated by two losses in a row — suffers three consecutive defeats.
As for the UFC women's featherweight championship, de Randamie owns the gold, but immediately put an already bizarre division into an odder situation, after UFC commentator Joe Rogan asked her thoughts on a potential fight with Cris Cyborg (who should she be available to fight is undeniably the rightful contender), de Randamie claimed she needed to take some time to get surgery on her hand and a tendon issue.
In the meantime, Cyborg made a point to call out Invicta FC featherweight champion Megan Anderson.
Sounds like @IronLadyMMA might need some time off. @MeganA_mma you ready to unify the @InvictaFights belts?!

— #UFC208 (@criscyborg) February 12, 2017
Comments
comments