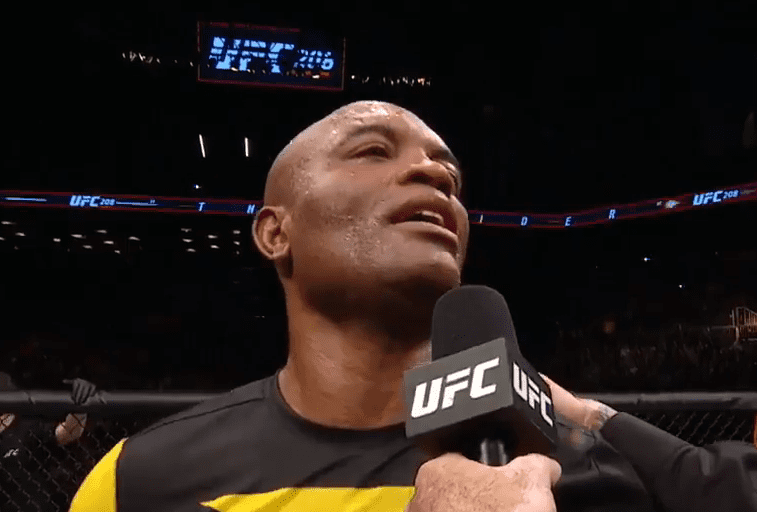 As usual, if Anderson Silva is involved, you know something kind of strange is going to happen.
The UFC legend faced off with Derek Brunson at UFC 208, and went three rounds in a highly tense affair. In the end, it was Silva who was awarded the unanimous decision victory from the judges, including a 30-27 on one scorecard.
.@DerekBrunson @SpiderANderson turning up the heat! #UFC208 pic.twitter.com/fa0WtLp6sr

— #UFC208 (@ufc) February 12, 2017
We got action! #UFC208 pic.twitter.com/4QschVAJlI

— #UFC208 (@ufc) February 12, 2017
It's fair to say that decision is not without its controversy. While Silva performed well, and at stages returned to his flashy style, Brunson landed several heavy shots in the clinch and took Silva to the ground on multiple occasions and many believed that was enough to win the fight.
Instead, the judges (to the delight of the Brooklyn crowd) went for the Brazilian, who was overcome with emotion at the sound of the decision.
"I know I'm too old to fight, these guys are too young for me, too fast for me, but fighting is my life," Silva said post-fight. "When I come here, when I come inside this cage, I put my life to stay inside the cage. I respect everybody here. Now I just to fight happy because I love my job, I love the UFC, I love my fans."
In response to the loss, a dejected Brunson took to Facebook to simply post: "‪Wow unreal I put my heart & soul out there on 3 weeks notice only to get it taken from me. I just outclassed the greatest of all time."
With the win, Silva moves to 34–8-1, while Brunson slips to 16-5.
Thank YOU, @SpiderAnderson! #UFC208 pic.twitter.com/PILN2gYoRr

— #UFC208 (@ufc) February 12, 2017
Comments
comments