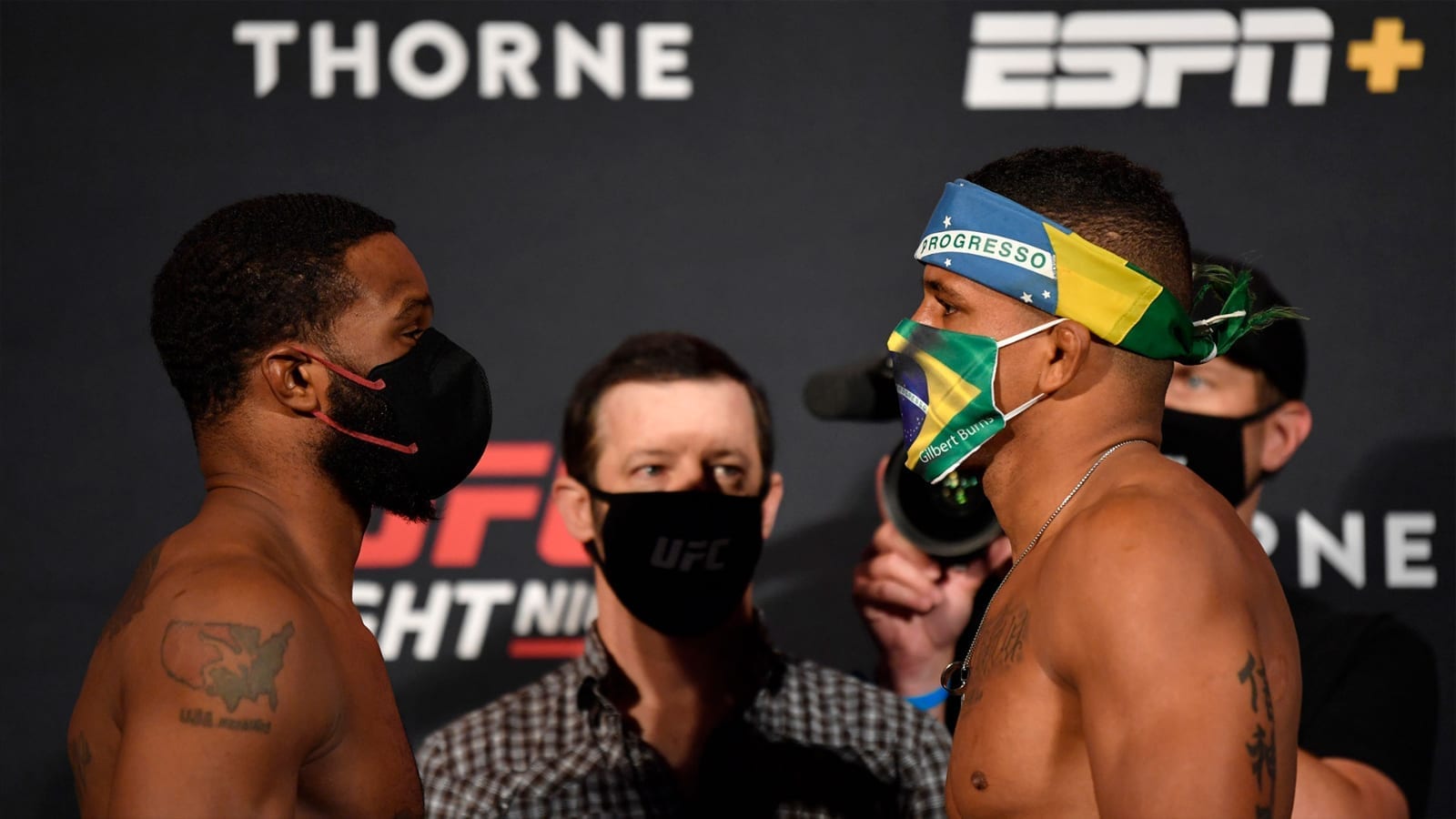 It wasn't close.
Tonight in Las Vegas, Gilbert Burns took his opportunity at the biggest fight of his career and defeated former champion Tyron Woodley without much to fear. In the end, the judges gave Burns a clean sweep, scoring the contest 50-45, 50-44, 50-44 in Burns' favour.
Burns walks away with his sixth victory in a row.
In the first, things immediately started to go bad for the former champion. He was dropped by a Burns' flurry, who then took the mount and threw ground and pound that left Woodley with a large gash over his left eye.
In the second and third, while it was nowhere near as decisive as the opening stanza, Burns remained in control, and Woodley slowly started to resort to the tentative counter-puncher looking for the big right hand to end the contest in one blow.
In the fourth, the gap continued to widen, and a big barrage of punches towards the end had Woodley back on the canvas with Burns trying to find the finish. In the fifth, while Woodley did attempt a number of his famous right hands, he was never likely to land, and Burns ended up seeing the final bell and the victory.
"Woodley's down!"

🇧🇷 @GilbertDurinho has the former champ ROCKED! #UFCVegas pic.twitter.com/2RLPro5Ljz

— UFC (@ufc) May 31, 2020
There's a massive cut over the left eye of Tyron Woodley 😬 #UFCVegas pic.twitter.com/fwoSlTHF4o

— ESPN MMA (@espnmma) May 31, 2020
🇧🇷 @GilbertDurinho with a flurry of strikes in RD 4! #UFCVegas pic.twitter.com/qBfeAtePL7

— UFC (@ufc) May 31, 2020
Guard. Changed. #UFCVegas pic.twitter.com/p8MkQvkduS

— UFC (@ufc) May 31, 2020
–
Comments
comments