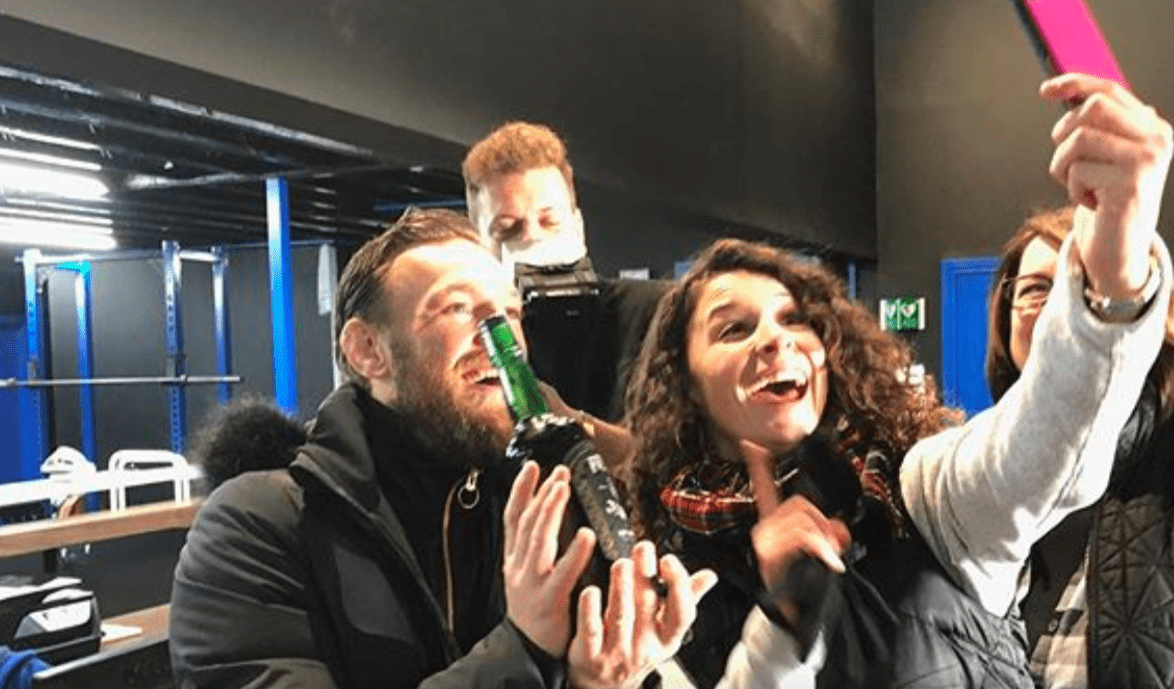 They say that you should never meet your heroes in case you are disappointed but try telling that to American tourist Taylore Bach and her family after a visit to SBG Ireland to purchase a t-shirt turned into a personal audience with the UFC's first-ever 'champ champ' Conor McGregor.
Bach, whose mother Gina is a cancer survivor and only recently acquired a passport, took a trip along with members of her family to Dublin and wanted to pick up a memento for her brother who counts the Irishman as his favourite fighter but once she stepped in the door at the new facility dubbed 'The Monster', she was shocked to see McGregor himself welcome them.
McGregor posed for photographs with the group and even gave them bottles of his own-brand 'Proper No. Twelve' as a keepsake. Check out the footage below.
When some fans travelled to SBG to pick up a t-shirt for their brother, they never expected to run in to the man himself! Watch as @TheNotoriousMMA treats some fans to an unforgettable trip to Ireland, as well as a few bottles of Proper Twelve 🥃 pic.twitter.com/VHjZjYQsO7

— TheMacLife (@Maclifeofficial) November 12, 2019
"I walk in and I'm like, 'That's a Bentley," one of the visitors says. "Then we come out and my mom is like, 'That's Conor McGregor' and I'm like, 'No it's not'. And it was. Hey gave us whiskey, signatures — everything."
SBG head coach John Kavanagh can be heard in the background of the video saying, "That's a good example. Everything in life is timing."
"The world is so big," McGregor says to the family in the video upon learning that the mother of the family had only recently received a passport for international travel. "The world is large, you've got to go see it."
"I should start carrying a couple of boxes shouldn't, you know what I mean? For things like this," McGregor says to the camera as he retrieves some bottles of Proper No. Twelve from his car. "They just pulled up in a taxi. She survived breast cancer. She's never been away, she's from America. It's the first time they've come here, they just landed and they came to the gym and they seen the Bentley and go, 'That has to be him!'"
"Deadly. Good energy!"
Image credit // Instagram @taylorebach
Comments
comments