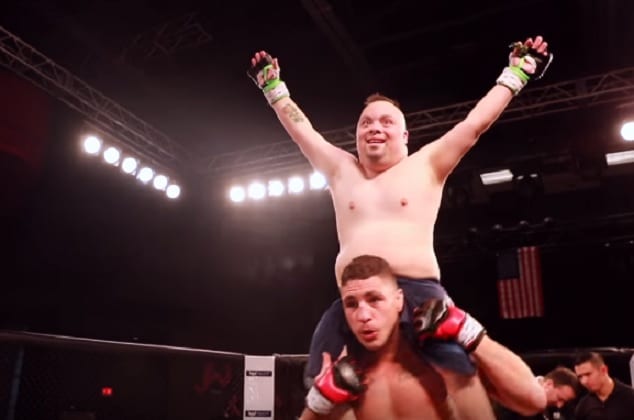 Chalk one up to Diego Sanchez. The UFC veteran and winner of the first season of The Ultimate Fighter has realised several of his own dreams throughout his mixed martial arts career but recently used those same skills to make a dream come true for one of his biggest fans.
Despite his Downs Syndrome, Isaac Marquez is an avid trainer in mixed martial arts and has been so since being introduced to the sport at the world famous Jackson-Wink Academy in Albuquerque, New Mexico. One of Marquez's fellow students there, Diego Sanchez, took notice of Marquez and offered to assist him with his training.
That training culminated at a recent Jackson-Wink event where Marquez took on Sanchez in an exhibition MMA bout. After a few slick grappling exchanges, Marquez locks in an armbar and coaxes the tap from the former world lightweight title contender.
Speaking after the bout, Sanchez said: "Most Down syndrome adults don't live past 45. Isaac is 32, and I just wanted to see this young man be healthy. Exercise and martial arts are one of the most healthy things you can do.
"I just wanted everyone to know that Isaac had a dream and he went after it, and he earned it, and he got it. So anybody out there, if you have a dream, believe in yourself and go for it."
.
Comments
comments