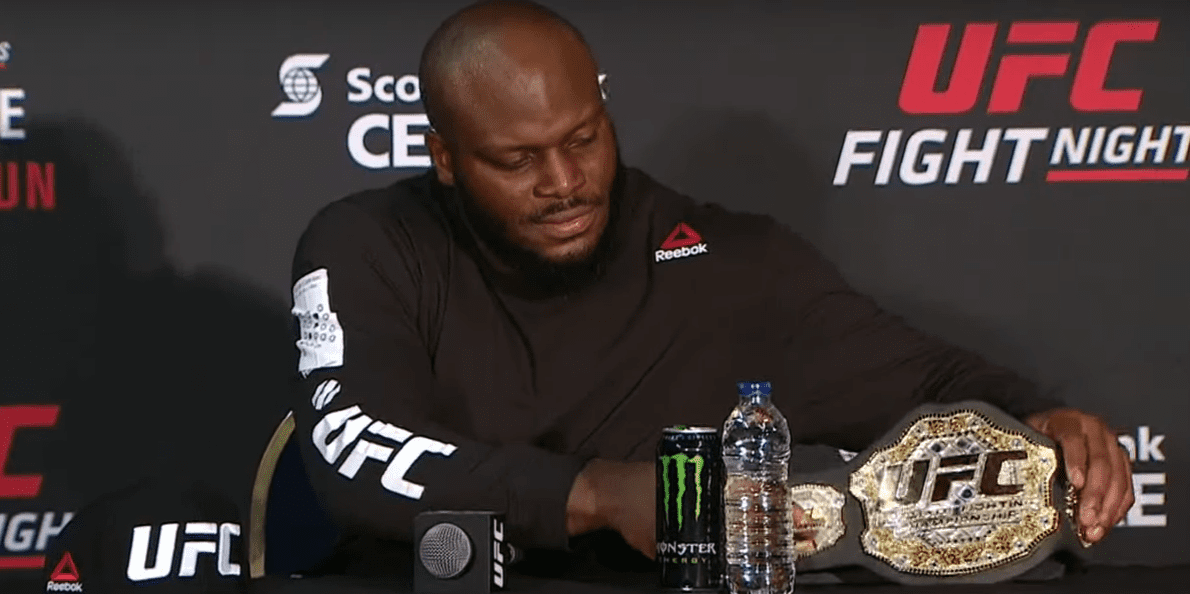 Derrick Lewis had himself a Sunday night to remember.
After knocking out fellow heavyweight Travis Browne at UFC Halifax and cutting a promo of which Ric Flair could be proud, Lewis found himself a small replica UFC title, anointed himself interim heavyweight champion and showed up to the post-fight press conference to address a variety of issues in the way only he can.
Here's a few highlights of some of the topics covered:
On his new 'belt'
"I'm gonna carry [this belt] around with me for a while. I'm interim heavyweight champ, so I wanna see what's next."
On the body kicks that appeared to have him hurt
"It was more that I was just trying to not shit on myself. I'm holding my gas in and trying to breathe at the same time, I just didn't want to shit on national TV, that's all that was. I didn't want it to happen to me, especially with this internet going around making memes of me and all that shit. Nah, I can't have that.
"I just eased out a little fart. Tried to clear out my stomach just a little bit, once I did that, it was good. In the second round it started coming back and bubbling in. [I knew] I had to end this fight."
On his performance overall
"I still feel like there's a lot of stuff I need to work on. I still need to get behind my punches, get behind my jab. But the thing is, I hate throwing jabs. To me, jabs are a waste of time. I just like to swing and bang, but I know that a lot of guys gonna get used to that and try and counter of that. My coach say you gotta set up the jab and throw the right hand behind it. But to me, I just hate throwing jabs."
On the late stoppage of the fight
"I appreciate it. Shit, I'll give him a thousand dollars. I appreciate him letting the fight go a little bit longer than it woulda had, 'cos I just wanted to get my anger out on Travis' face because he likes to hit-on women. So I appreciate [the referee] for doing that.
"I keep it real."
Comments
comments