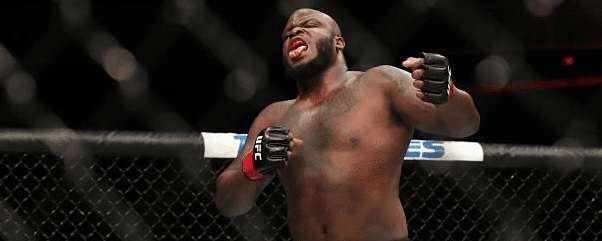 You can call him what you want, but there's not a chance you can call Derrick Lewis boring.
The heavyweight got himself another win on Sunday night at UFC Halifax after knocking out Travis Browne in the second round after an incredible back and forth affair.
Lewis did well to come back and get the victory after he had looked as if he was in serious trouble during the first round after multiple kicks to the body had him doubled over in pain. Lucky for him, he managed to persevere and come back to hit Browne with a ferocious combination before getting the fight to the ground and knocking him out.
BRUTAL knockout at #UFCHalifax from @Thebeast_ufc pic.twitter.com/c8q7CmtVa2

— 120 Sports (@120Sports) February 20, 2017
As if all that wasn't enough, Lewis then took his chance in the post-fight interview in the Octagon to unleash one of the most incredible speeches the UFC cage has ever seen. After declaring the body kicks didn't faze him ("I just gotta do a number two, that's all I just gotta do a poo-poo"), Lewis went on to criticise Browne in a way few would dare.
"I just know I had a bigger heart than [Travis]," Lewis said. "He call himself a man but he likes to put his hands on women. Forget that guy, I got much more heart than he has. Where's Ronda Rousey's fine ass at?"
All that, before culminating in a unique description of why he required time away from the sport.
"I feel like I just need some time off," he said. "I don't want to hear nothing about not fighting in the next three months. … Plus, all the training and all the sex I've been getting, my body needs some time off."
Comments
comments