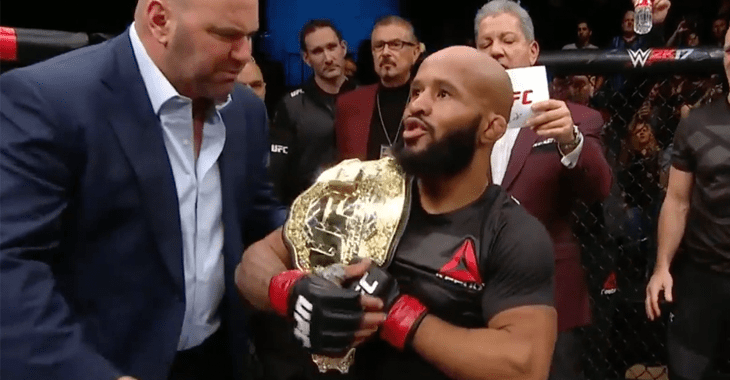 The Demetrious Johnson — Dana White — T.J. Dillashaw saga continues.
Recently, the UFC flyweight champion made his grievences with the promotion public, posting a statement to Facebook which listed a number of issues he had with the promotion's attempts to have his next title defence against former bantamweight champion T.J. Dillashaw.
Johnson declared the negotiation tactics being used by the UFC — in particular by UFC president Dana White — as bullying and unfair, statements that White himself disagreed with emphatically.
But, even with the back and forth, Johnson looks no closer to backing down and insists he'll only face Ray Borg in what would be a record breaking fight that made Johnson possess the most title defences of all time.
According to Johnson, he isn't standing up against a particular fighter, he's standing up for the sanctity of rankings.
"It's not about T.J. Dillashaw," Johnson said, speaking on his Twitch channel. "It's about somebody thinking they deserve to come down to a different weight class and deserve to get an immediate title shot. I was not a fan of it when [Georges St-Pierre] tried to do it against Michael Bisping.
"I told Tyron Woodley he should have got a title shot before anybody else did, because he was on a four fight win streak and had beat the number one contender, but they kept going with a bigger name — and I told Tyron Woodley to his face, if Demian Maia doesn't get a title shot next it's fucked up."
In Johnson's mind, he believes that he's one of the few champions to obey the rankings and contender status of other fighters. After the UFC previously had informed him Ray Borg was the number one contender, he is simply unwilling to ignore that status in light of what the UFC have pushed as the bigger fight.
"I try to look at myself as the purist of mixed martial arts," Johnson said. "I try to fight the number one contender every single time they put me into it. Believe it or not ladies and gentlemen, T.J. Dillashaw is not the number one contender. A lot of people like to believe he is, but if you look at the stats, he hasn't fought one time in the flyweight division.
"If T.J. came down to flyweight and won one, and then worked his way to a title shot, then we all wouldn't be having this conversation. … I believe the ball is in their court, but I think I kind of laid it out there and I think that it's not going to happen."
Comments
comments