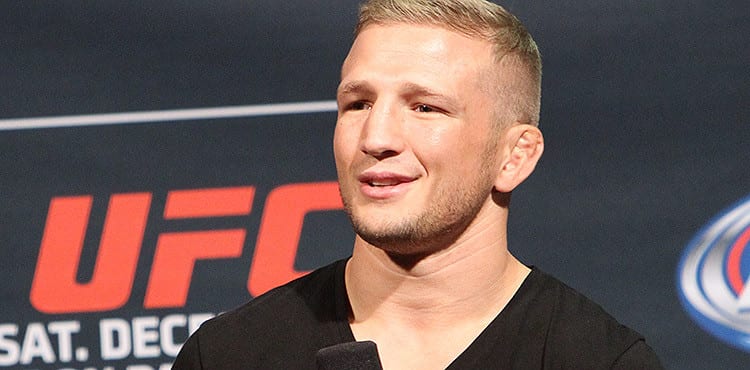 TJ Dillashaw is doing everything he can to secure a high profile fight, it would seem.
His calling out of flyweight champion Demetrious Johnson has opened a pandora's box of complaints and accusations from Johnson which has led to a larger issue between Mighty Mouse and the UFC in general, so it appears that Dillashaw has shifted his focus back to current bantamweight champion Cody Garbrandt.
Dillashaw was slated to meet Garbrandt for the 135-pound title this summer but a back injury suffered by the champion waylaid those plans but in a recent edition of the Fight Society podcast (as reported by Fansided) cast doubts on the severity of Garbrandt's injury woes.
"Trust me, I want the Cody fight as well but he's injured–I guess you can say," Dillashaw said.
"It's just the fact that I've seen him drunk and wrestling around with his buddies while his back is supposedly hurt doing rehab. There's some posts that I got tagged in or got sent to me when I woke up one morning, him getting all drunk with his buddies and him getting into a full blown wrestling match on the ground with Danny Castillo."
Garbrandt recently sought treatment for his ailment in Germany in a bid to regain fitness for a summer bout with Dillashaw, though that was ultimately fruitless. It remains to be seen when Garbrandt will be deemed fit to return to action but with the much-anticipated bout with Dillashaw looking unlikely to take place in the short to medium term, and Demetrious Johnson's unwillingness to give a title shot to him, TJ Dillashaw's immediate UFC future seems to be in limbo.
Comments
comments