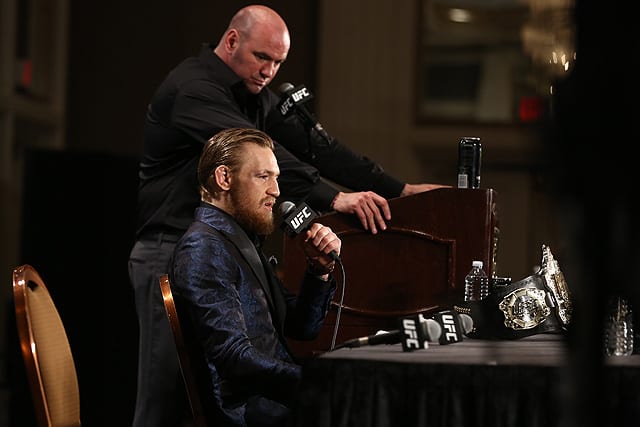 Almost immediately after it was announced, and Conor McGregor vs. Khabib Nurmagomedov already looks as if it could be the biggest mixed martial arts fight in history.
The two talents, both cheered on by rabid fanbases, are set to clash on October 6 in a highly anticipated grudge match. And according to UFC president Dana White, it's the fact the fight is so dangerous for both competitors that makes it so special.
"It's what makes Conor McGregor the international superstar that he is and it's what makes Khabib a straight killer," White said, speaking with Megan Olivi after the bout was announced. "You have two of these guys who are actually both straight killers coming out of the gate going at each other head to head. In their prime. Incredible."
That's not to say he's underplaying how financially successful the contest is likely to be for his company.
"It's a massive fight," he said. "I knew this was the fight to make, and I believe this is the biggest fight in the history of the company other than the Mayweather fight. It's going to be massive."
While McGregor vs. Nurmagomedov was always an interesting fight on a sporting level, the nature of the bus incident in April added a personal edge to the contest — something that will no doubt continue to play out as the pair engage in media duties throughout the build up to the event.
Comments
comments