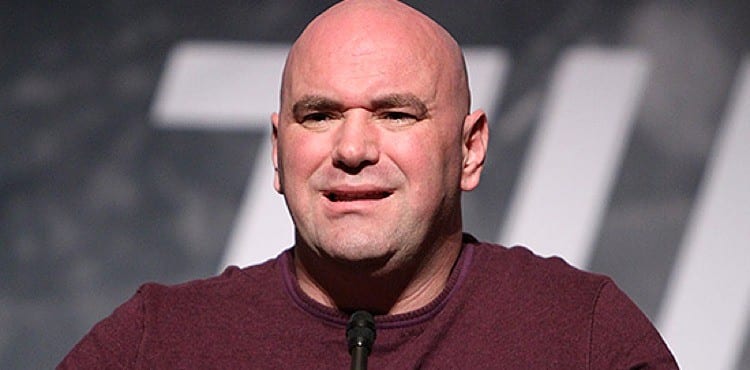 There are few times Dana White appears to be happier than when he's challenged publicly.
Ahead of UFC 212, the UFC president has been doing the media rounds to promote the card that takes place this Saturday night. And, one question that keeps being asked — particularly in light of a video posted to White's social media this morning — is what White thinks of De La Hoya's recent comments that a fight between Conor McGregor vs. Floyd Mayweather would damage boxing beyond repair.
Unsurprisingly, Dana's not impressed, and when speaking with TMZ, today, delivered one his textbook rants on the situation.
"What the fuck, Oscar?" White said, speaking with TMZ. "Listen, Oscar De la Hoya and I have had a good relationship for a long time. If you look at the past, including the Canelo [Alvarez] – [Julio Cesar] Chavez fight, I've been very supportive of every event that he does. Bob Arum and I don't get along. If Bob Arum and I had the two last fighters on Earth, I wouldn't make a fight with that scumbag. But Oscar and I always have had a good relationship.
"He's talking about money grabs? Canelo [vs.] Chavez? You're going to put on a fight like that and then call McGregor-Mayweather a money grab? When you're trying to make that fight four months ago? It's crazy. What is this guy doing, what is his deal? … It makes it sound like he has no confidence in [upcoming fight between Gennady Golvkin] and Canelo, which I have said publicly is good fight.
"He seems completely insecure, and it's one of the weirdest things I've ever seen. And talk about two-faced and contradicting. … Hating. He has no confidence in his fight. Oscar, what the fuck? Seriously, what the fuck is going on with you? Are you nuts? Are you out of your mind? Have you lost your fucking mind? What's going on?"
The entire affair stems from a social media post De La Hoya made last week, where he said that a boxing bout between McGregor and Mayweather was nothing more than an obvious attempt to make money, and would be incredibly disrespectful to both boxing and mixed martial arts.
In response, White maintained that no-one truly knows what a fight will look like until it takes place — something he believes De La Hoya knows plenty about.
"Hey Oscar, just like when I showed up in my seats to watch Canelo – Chavez," White said. "The fight sucked. You know the fight sucked, and the whole world knows the fight sucked. You got a better fight in Triple G and Canelo. Be confident about what you're doing. Be a little confident about your business, Oscar, and don't shit on other people's stuff. It's weird. It makes you look weird, especially when you wanted this fight so bad four months ago."
Comments
comments