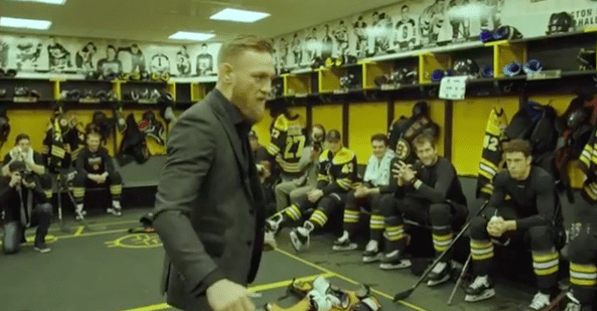 From the cage to the boxing ring to the… hockey rink?
Conor McGregor returned to Boston's TD Garden on Saturday, the scene of his UFC victories against Max Holloway and Dennis Siver, to help another group of sportsman take their step towards sporting supremacy when he was invited to deliver a pre-game speech to NHL side Boston Bruins ahead of their crunch clash with the Columbus Blue Jackets.
McGregor was invited to the arena on the eve of St. Patrick's Day as part of the team's Irish Heritage Night and was also invited to drop the ceremonial first puck in advance of the game's start.
Before that, though, McGregor delivered an inspirational speech with his typical zeal.
"Remember, nothing heroic gets done without support, without unity. We must back each other, support each other," McGregor said to the Bruins players in their locker room in a video captured on his Instagram page.
"Look left, look right. Know that the people with you are your brothers, the people who you have to fight for. Fight until victory. Boys, I wish you the best. Let's go Boston Bruins!"
"Get this puck when I drop it," McGregor directed at team captain Zdeno Chara. "This is your puck, this is your arena. Who is the enforcer? All of you! Every fucking one of you are the enforcers. Take these people out, take no prisoners!"
McGregor was invited on to the ice to for the ceremonial dropping of the puck, arriving to the sounds of his now familiar mix of 'The Foggy Dew' and 'Hypnotize'.
WATCH: TD Garden goes wild as Conor McGregor drops ceremonial puck ahead of Bruins-Blue Jackets game pic.twitter.com/U1SIf5DmMH

— NESN (@NESN) March 16, 2019
It seems that McGregor's impact was a positive one too, as the Bruins ran out 2-1 winners after overtime. The Bruins' Brad Merchand scored one of the crucial goals and, fittingly for the day that was in it, celebrated his strike with his own variation of the 'McGregor Strut', as that has become known.
One Notorious celly.@Bmarch63 | #NHLBruins pic.twitter.com/wLSEGq1aKT

— Boston Bruins (@NHLBruins) March 17, 2019
Victory, of course, is its own prize but McGregor wasn't letting these players leave the arena empty handed and soon returned to the dressing room with crates of Proper Twelve for the team to celebrate St. Patrick's Weekend with.
Comments
comments