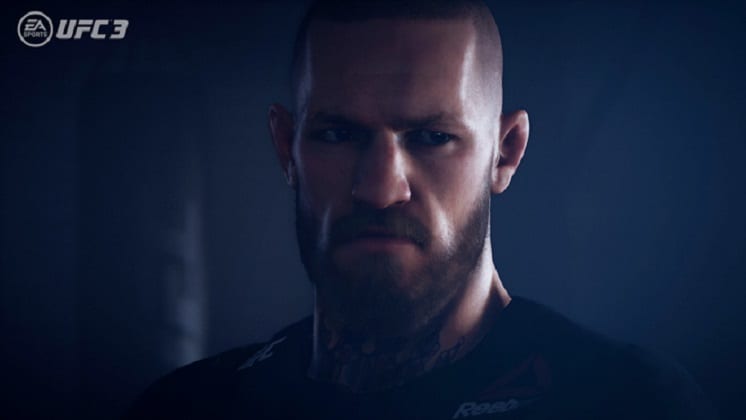 Once again Conor McGregor finds himself on the cover of EA's upcoming UFC 3 game, though this time he isn't sharing it with anybody.
McGregor, the first simultaneous two weight champion in UFC history, is on the cover with both the UFC lightweight and featherweight titles draped across his shoulders. The Irishman also appeared on the EA UFC 2 cover in early 2016, though on that occasion he shared the cover with Ronda Rousey. This time, the UFC's biggest star shoulders the responsibility on his own.
"Two belts, two covers – EA SPORTS got it right again," McGregor said of the upcoming game. "It's an honor to be on the cover and I can't wait to play the game."
Brian Hayes, Creative Director of the game, said that the technological advancements in the game make the title a far more immersive experience compared to previous iterations.
"UFC 3 and RPM Tech mark a new generation of gameplay in EA SPORTS games," said Hayes. "The new animation technology has allowed us to take a massive leap forward in motion and responsiveness. The result is a complete overhaul to gameplay where every move is more strategic and looks more authentic and beautiful."
A host of new and updated features will be present on EA UFC 3, as well as the deepest roster yet in any UFC game. The career mode is greatly enhanced too, allowing players to guide the careers of their fighter all the way to becoming the MMA G.O.A.T. A deep in-game social media system allows players to initiative and participate in rivalries as they progress their careers, in a much updated game mode compared to previous games.
EA Sports UFC 3 will be released on worldwide on February 2 for Xbox One and PlayStation®4.
TheMacLife.com was given an opportunity to test the game, as well as speak with UFC flyweight champion Demetrious Johnson and Creative Director of the game, Brian Hayes, which you can watch below:
.
Comments
comments